Storm Forecast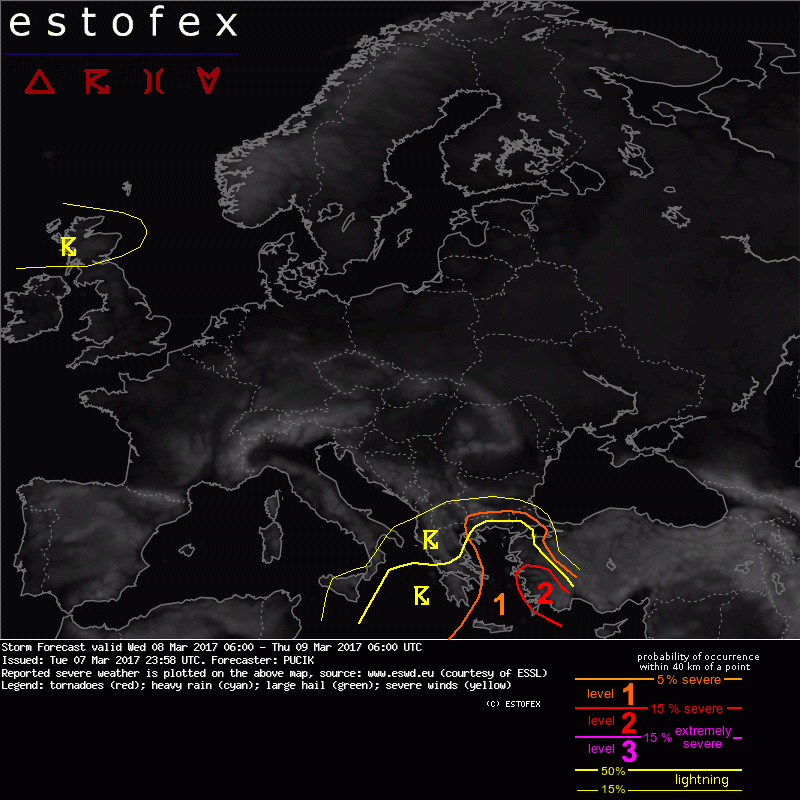 Storm Forecast
Valid: Wed 08 Mar 2017 06:00 to Thu 09 Mar 2017 06:00 UTC
Issued: Tue 07 Mar 2017 23:58
Forecaster: PUCIK
A level 2 was issued for SW and S Turkey mainly for excessive precipitation, tornadoes and to the lesser degree for large hail and severe wind gusts.

A level 1 was issued for the Aegean and Turkey mainly for excessive precipitation and to the lesser degree for large hail and tornadoes.

SYNOPSIS

An active weather pattern is simulated over Europe with strong northwesterly flow bearing a series of short-waves across the Atlantic and W Europe. This activity will remain mostly without DMC, perhaps apart from the parts of the Atlantic, especially W of the Scotland, where models simulate overlap of tongue of enhanced lower tropospheric moisture with steeper lapse rates. Scattered to widespread thunderstorms are forecast in an area of deep and extensive low pressure system centered just S of Greece, deserving further attention.

DISCUSSION

... Aegean Sea, W and SW Turkey ...

On the forward flank of the quasi-stationary mid-tropospheric low, a southerly jet-stream is simulated by models, shifting SE-wards during the day with a well defined exit region by Wednesday night / Thursday morning over SW Turkey. Numerous rounds of thunderstorms will form over the region in a slightly to moderately unstable airmass, characterized by a few hundreds J/kg of MLCAPE over the Aegean Sea to up to around 1000 J/kg S of Turkey. 15 - 25 m/s of DLS is forecast, aiding in the organization of convection, which will attain form of multi or supercells. The strongest DLS is forecast over S coastline of Turkey. With supercells, a spectrum of severe weather hazards may occur, including large hail, severe wind gusts or even tornadoes, especially along the coastlines. Tornado and excessive rainfall threat will be maximized along the S Turkey coastline, where during the Wednesday night into Thursday morning, southerly low level jet will strengthen with 850 hPa windspeeds reaching 20 - 30 m/s, impinging on the coastline. For this region, a Lvl 2 has been issued.