Storm Forecast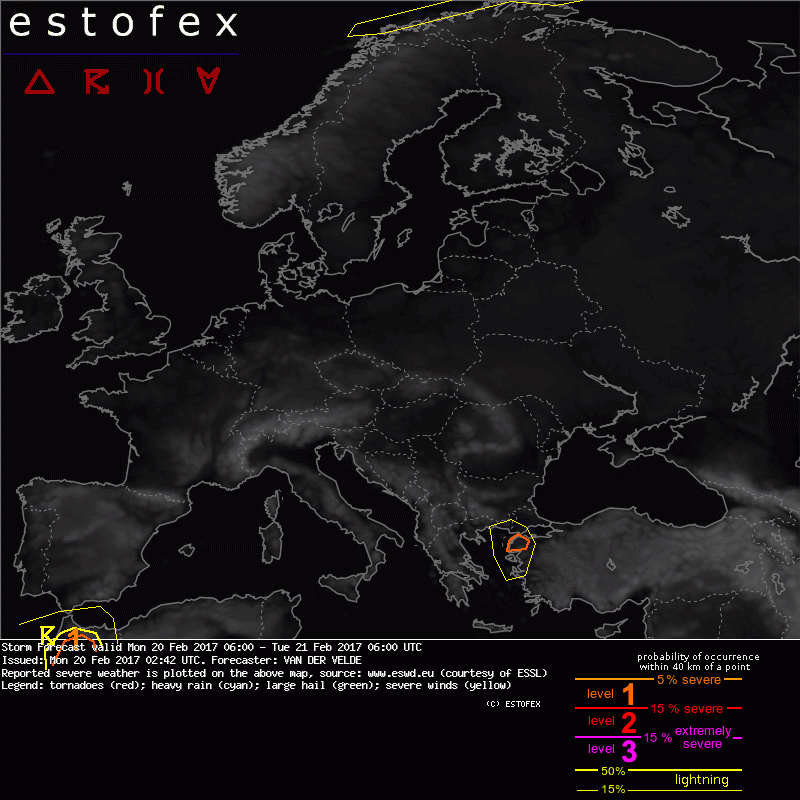 Storm Forecast
Valid: Mon 20 Feb 2017 06:00 to Tue 21 Feb 2017 06:00 UTC
Issued: Mon 20 Feb 2017 02:42
Forecaster: VAN DER VELDE
A level 1 was issued for NW Turkey mainly for slight tornado chances.
A level 1 was issued for N Morocco mainly for large hail.

SYNOPSIS

The map is divided into low pressure in the north, a band with strong pressure gradients (50-58 N), bounded to the south by high pressure over the Celtic Sea stretching eastward through central Europe. There is one low pressure system over Morocco and another over the eastern Balkan.
Warm air is advected into the Morroccan low which creates a baroclinic region where more than 250 m2/s2 SREH develops in conjunction with 300-500 J/kg MLCAPE. Supercells may develop as a result, with large hail the main threat.
The Balkan low sets up a cold front convergence zone with slight CAPE over NW Turkey, where quite strong deep and low level shear support mesocyclones which could produce an isolated tornado.