Storm Forecast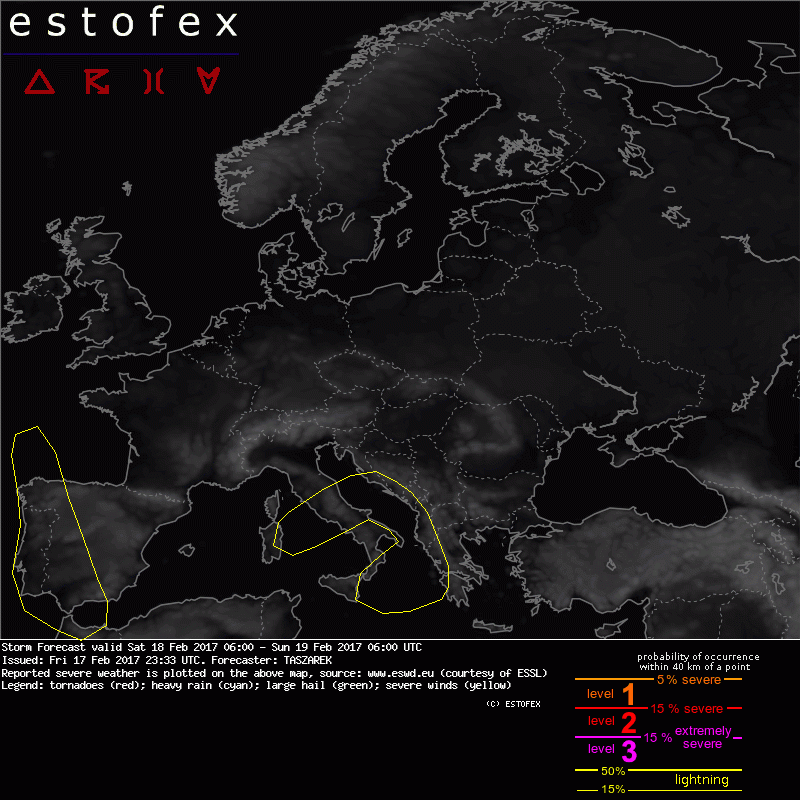 Storm Forecast
Valid: Sat 18 Feb 2017 06:00 to Sun 19 Feb 2017 06:00 UTC
Issued: Fri 17 Feb 2017 23:33
Forecaster: TASZAREK
No threat levels have been issued.

SYNOPSIS and DISCUSSION

Mid-level long wave trough is located over parts of E Europe between Poland and Ukraine with a peak near N Adriatic Sea. Another mid-level cut-off travels southward through NW Iberian Peninsula. Broad surface high extends over large area of CNTRL and parts of W Europe providing stable atmosphere. Jet streaks run through N Scandinavia and west of western Iberian Peninsula coast. Chances for low-topped weak thunderstorm activity exist on the S and SE flanks of the troughs where CAPE up to 200-400 J/kg develops with 5-6 g/kg MIXR and ~ 7 K/km lapse rates and the small support of QG lift. However, due to weak instability and lack of good overlap with vertical wind shear, severe convective storms are unlikely. A small area of elevated shear values in weak CAPE zone exist on the W Iberian Peninsula coast, but NWP models are unlikely in CI over these areas. Due to superimposing stratiform and convective precipitation, a small threat for excessive precipitation exist along E Adriatic coast, but due to marginal CAPE, threat seems to lie below lvl. 1 threat level.