Storm Forecast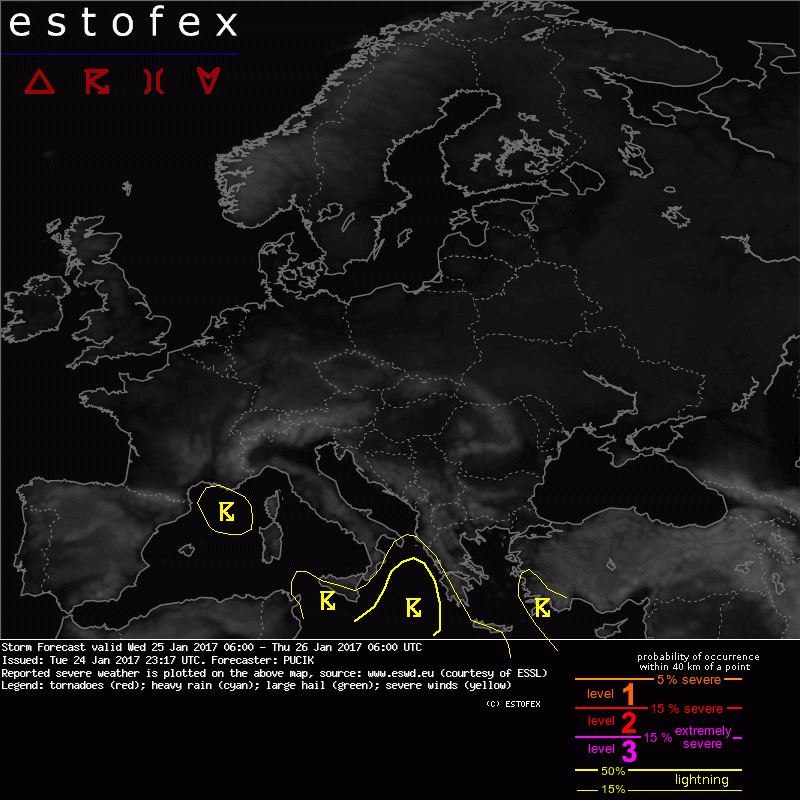 Storm Forecast
Valid: Wed 25 Jan 2017 06:00 to Thu 26 Jan 2017 06:00 UTC
Issued: Tue 24 Jan 2017 23:17
Forecaster: PUCIK
No threat levels have been issued.

SYNOPSIS and DISCUSSION

Dominant synoptic-scale feature will be an extensive high pressure system at the lower troposphere stretching across most of Central and Eastern Europe. At its eastern flank, yet another arctic airmass outbreak is forecast to dip over the Black Sea towards the Balkans penninsula and Turkey. On the western flank of the high, a tongue of warm and moist airmass is advected towards the Norwegian coastline. Most of the continent will be under dry and stable conditions.

Isolated to scattered thunderstorms are forecast only over the parts of the Mediterranean. The first area will be Gulf of Lion, where isolated weak thunderstorms may occur as the cut-off low at mid-troposphere moves offshore later in the period. The second area will be the South-Central Mediterranean, especially the Ionian Sea, where a combination of modest lower tropospheric moisture and lapse rates around 7 K/km under the cold mid-tropospheric airmass will result in a few hundreds J/kg of CAPE. Lack of high CAPE values, as well as lack of strong vertical wind shear precludes significant risk of severe with thunderstorms.