Storm Forecast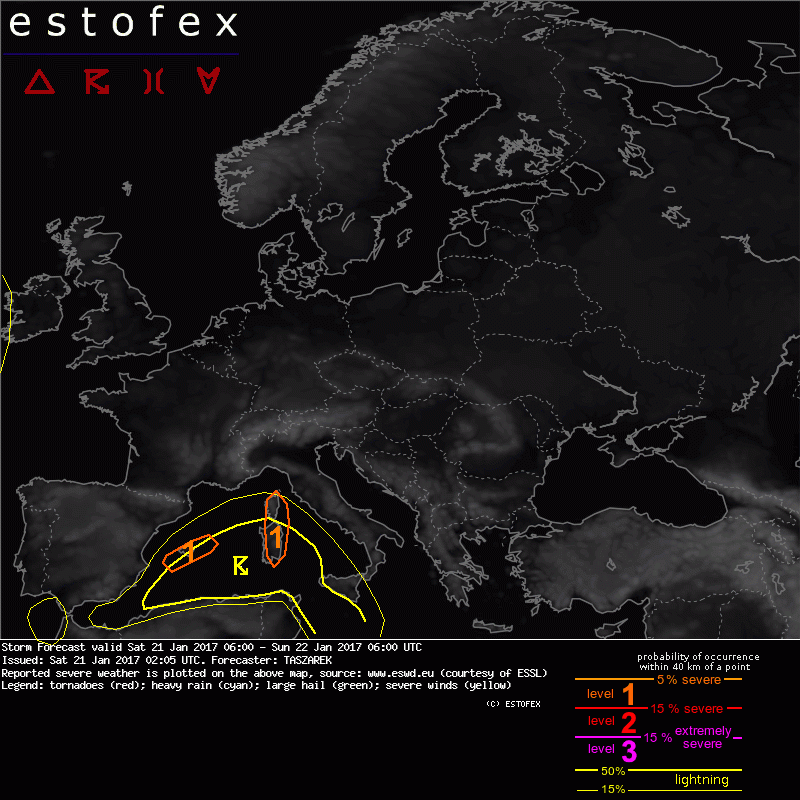 Storm Forecast
Valid: Sat 21 Jan 2017 06:00 to Sun 22 Jan 2017 06:00 UTC
Issued: Sat 21 Jan 2017 02:05
Forecaster: TASZAREK
A level 1 was issued for Balearic Islands mainly for excessive precipitation and severe wind gusts and to lesser extent for large hail.

A level 1 was issued for Corsica and Sardinia mainly for excessive precipitation and severe wind gusts and to lesser extent for large hail.

SYNOPSIS and DISCUSSION

A broad high with stable cold polar airmass overspreads most of the CNTRL, E, SE and partly W Europe. An axis of the weakly pronounced long-wave trough runs from British Isles up to NW Africa. A shallow low is placed W of Ireland while a broad quasi-stationary cyclone is centered in W Mediterranean. Within the second one, a mixture of 6-7 g/kg mixing ratios and 7-7.5 K/km lapse rates results in a few hundredths of CAPE. Given a persistent lift, convective cloud depth exceeding 6-7 km and equilibrium levels dropping below -30C, an enhanced lightning activity and continuous convective precipitation are expected within this system during the whole forecast period. Due to high amounts of expected convective precipitation and superimposing stratiform precipitation (total sums may locally exceed 80 mm), there is a risk of excessive precipitation and a local flash flooding on Balearic Islands, Corsica and Sardinia. In the afternoon hours, a good overlap of 20-25 m/s DLS and 400-800 J/kg CAPE will take place, but mostly over water areas SE of Balearic Island and SW of Sardinia. A few supercells and multicell cluster with the potential of producing severe wind gusts are possible. Thanks to relatively low level of 0C isotherm, steep lapse rates and a favorable WMAXSHEAR, chances for a 2-3cm hail or a large amounts of small hail cannot be ruled out. Although within the passage of the day, shear will be dropping, a sustaining 25 m/s 850 hPa flow will pose a risk of severe wind gusts. Convection with lightning will be ongoing in W Mediterranean area during the nighttime hours and will continue during the next day.