Storm Forecast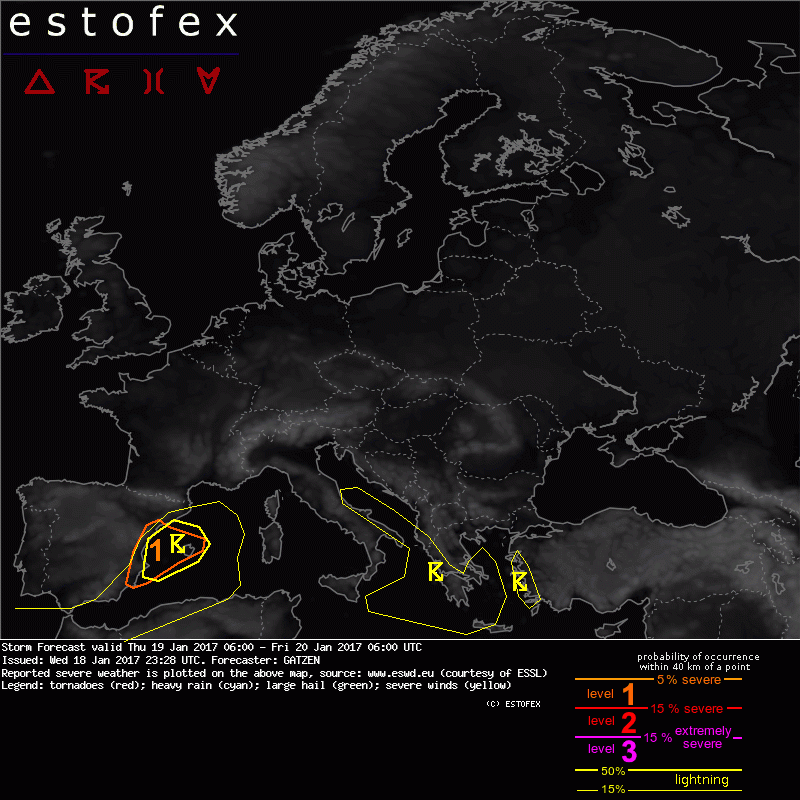 Storm Forecast
Valid: Thu 19 Jan 2017 06:00 to Fri 20 Jan 2017 06:00 UTC
Issued: Wed 18 Jan 2017 23:28
Forecaster: GATZEN
A level 1 has been issued for eastern Spain mainly for excessive rain and to a lesser extent waterspouts.

SYNOPSIS / DISCUSSION

High-over-low blocking is present across Europe. Low geopotential covers all of southern Europe with centres across Iberia, Italy, and northern Black Sea. Ridging is centred across the British Isles and extends into eastern Europe. To its north, strong flow affects Scandinavia with an intense trough crossing from west to east during the period.

Stream of rich low-level moisture is located far west of the European continent directed towards Iceland, but a tongue of this moisture is also stretching eastward into southern Norway with a mixing ratio of 6 g/kg. Maritime air masses do also lead to slightly increased low-level moisture across the North and Baltic Sea area, but low-level mixing ratio is only around 4 g/kg here. Some better moisture is also located across the central and southern Mediterranean. This is also the area where some weak CAPE is present given the cold mid-level air mass and relatively warm sea surface. Foci of convective storms are forecast close to the centres of the mid-level troughs, that is eastern Iberia and southern Italy.

Main convective threat is excessive rain that could occur along the shores of eastern Spain. With a long fetch of easterly low-level winds, rich moisture is advected towards the trough centre, where cool mid-level air allows for deep moist convection. Supported by upslope flow, excessive rain can be expected with these storms. The Balearic Islands may be also affected. Furthermore, storms across the Mediterranean can produce waterspouts.