Storm Forecast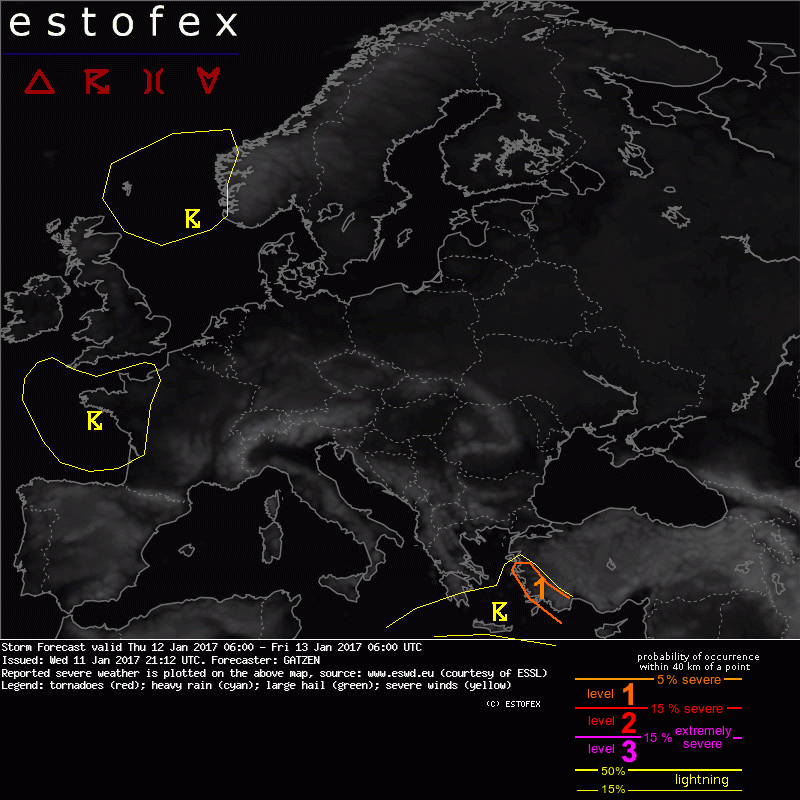 Storm Forecast
Valid: Thu 12 Jan 2017 06:00 to Fri 13 Jan 2017 06:00 UTC
Issued: Wed 11 Jan 2017 21:12
Forecaster: GATZEN
A level 1 was issued for southern and soith-western Turkey mainly for excessive rain.

SYNOPSIS / DISCUSSION

Mid-level flow forms a deep trough that covers eastern Europe and extents into Algeria. Due to downstream development ahead of an Atlantic trough, the east European trough starts to move eastward. Its axis will cross the Aegean Sea, Turkey, and Black Sea on Thursday.

Ahead of this trough, a south-westerly flow affects the east Mediterranean. At lower levels, dry polar air masses have spread across most of Europe. Better moisture is situated at the edge of the coldest air mass along a frontal boundary from southern Sicily to the Aegean Sea. The cold front moves south-east and affects the southern Aegean and southern Turkey during the period.

Although latest soundings do not indicate any CAPE, there is the chance that some low-topped storms can form during the afternoon. Best potential is expected over southern Turkey and the south Aegean Sea. Strong precipitation can produce flash floods in regions with topographic lift, especially southern Turkey.

Over western Europe, the intense trough that approaches from the Atlantic causes steep lapse rates to spread south. Especially over the waters of the Bay of Biscay and the North Sea, showers and thunderstorms can form, even though low-level moisture is weak. Severe potential of these storms is weak given the low CAPE, and severe wind gusts are mainly caused by synoptic-scale pressure gradients.

Ahead of the Atlantic trough, an upper level front moves into the west Mediterranean, leading to steep low-level lapse rates. Although the surface front is further downstream what leads to weak boundary-layer moisture, it is not ruled out that a few electrified storms form over southern France late in the period. These may produce isolated severe wind gusts. The threat it too low for a level 1, though.