Storm Forecast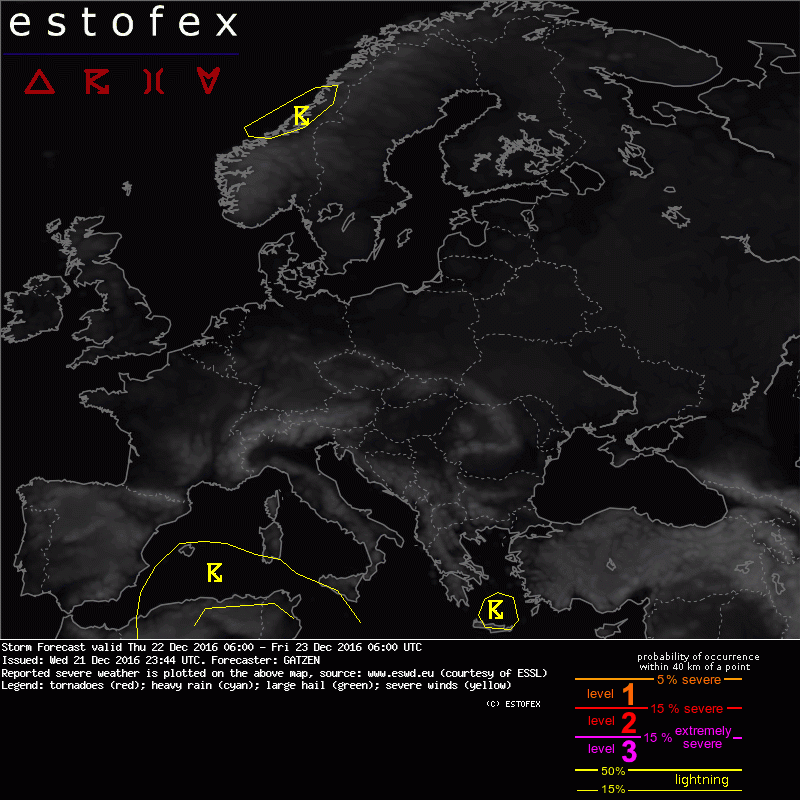 Storm Forecast
Valid: Thu 22 Dec 2016 06:00 to Fri 23 Dec 2016 06:00 UTC
Issued: Wed 21 Dec 2016 23:44
Forecaster: GATZEN
SYNOPSIS / DISCUSSION

A long-wave trough spreads east into Scandinavia, with several intense vort-maxima traveling into northern Europe. Atlantic ridge expands into central Europe and Iberia. Remaining cut-off lows will affect north-western Africa and the east Mediterranean.

Low-level moisture is marginal over most places. Best moisture is forecast over the Bay of Biscay and further south along the shores of Iberia, where these moisture will also overlap with steep mid-level lapse rates. However, forcing is weak given large-scale subsidence on Thursday.

Rich moisture is also present over the south-west Mediterranean. Lapse rates are rather weak bust some marginal CAPE is forecast close to the African borders. Storms are forecast especially in the morning hours in a region affected by a mid-level trough. As this trough migrates into Africa, storms are forecast to weaken. Vertical wind shear is not supportive for organized storms, however, an isolated waterspout is not ruled out.