Storm Forecast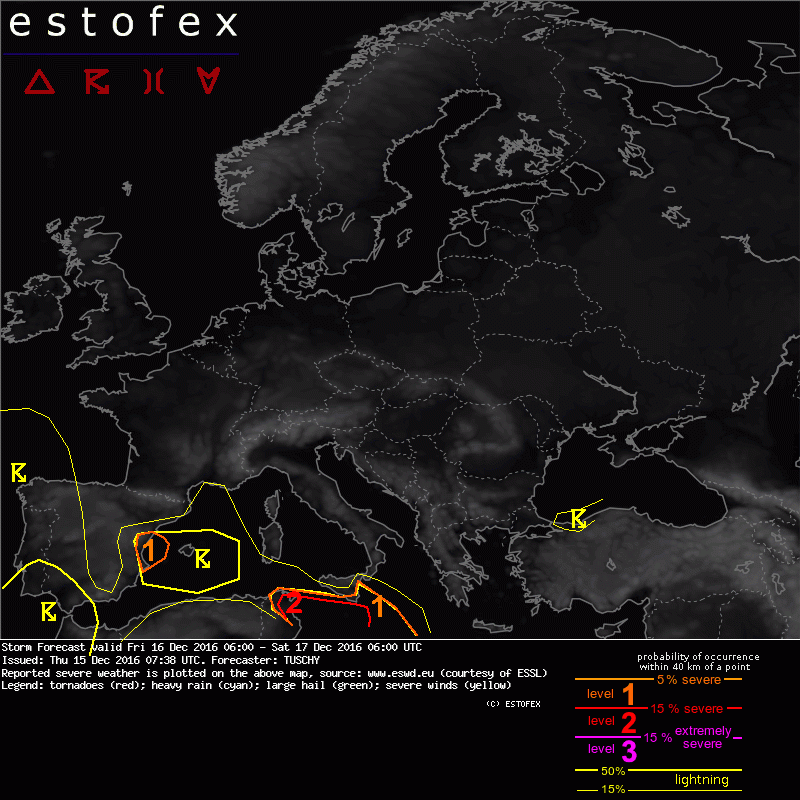 Storm Forecast
Valid: Fri 16 Dec 2016 06:00 to Sat 17 Dec 2016 06:00 UTC
Issued: Thu 15 Dec 2016 07:38
Forecaster: TUSCHY
A level 2 was issued for parts of Tunisia and Malta mainly for excessive rainfall amounts.

A level 1 surrounds the level 2 for an excessive rainfall risk.

A level 1 was issued for parts of E-Spain mainly for excessive rain. An isolated tornado is possible along the coast.

SYNOPSIS

The setup features an intense high pressure area over W/CNTRL Europe and a deep longwave trough over E-Europe. This kind of configuration assists in an ongoing advection of a dry and cool/cold air mass from Scandinavia all the way to the far E-Mediterranean. A second trough west of the high pressure area starts to drip and it finally evolves into a cut-off over Morocco. Another compact upper low crosses Algeria east and affects Tunisia during the overnight hours. This upper low is accompanied by a broad and E-W- elongated surface depression, centered over Tunisia for most of the time.

DISCUSSION

... Tunisia, Malta, parts of Sicily and E-Spain ...

Large-scale lift spreads east in conjunction with an eastbound moving upper low and attendant surface depression. The pressure gradient strengthens between an intensifying 1040 hPa ( ) high pressure over CNTRL/E-Europe and the gradually deepening depression over Tunisia. The result will be a brisk easterly flow regime with low-tropospheric winds increasing from 15kt to 40 kt until 06 UTC. As cold mid--levels overspread the warm and moist maritime layer south of Malta, 500-1000 J/kg MLCAPE is forecast with decreasing values towards Sicily. Forecast soundings between Tunisia and Malta show a favorable environment for training convection as a pronounced LLJ (up to 800 hPa) evolves with weakening winds aloft. Profiles are moist and feature moderate mid-level lapse rates. During the day, a band of strong BL convergence becomes established in this area, and the risk of training convection with excessive rain is elevated between Malta and Tunisia.

The northern part (including Sicily) features some uncertainties regarding where and when the heavy precipitation occurs, which depends on the final track of the LL depression. For now, we added a level 1 for the Hyblaean Mountains and the Mount Etna, where strengthening onshore and upslope flow should also add an heavy rainfall risk. Latest data indicates an onset of the heaviest precipitation after 00 UTC. Due to ongoing uncertainties, no level 2 was yet issued for those regions.

A similar setup evolves over far E-Spain, where heavy precipitation with embedded thunderstorms is forecast beyond 00 UTC. An isolated tornado event is possible along the coasts, where enhanced LL shear and an untable air mass overlap.

... Rest of the lightning areas ...

A broad lightning area was added over most of the Iberian Peninsula and offshore regions, as cold mid-levels atop warm SSTs result in active maritime convection. Nothing severe is anticipated, although heavy rain is possible over S-Portugal and SW-Spain (including NW Morocco, where rain turns to snow in higher elevations).

Heavy lake effect snow is forecast along the coasts of the S-Black Sea. Isolated lightning activity is possible in strongest bands.