Storm Forecast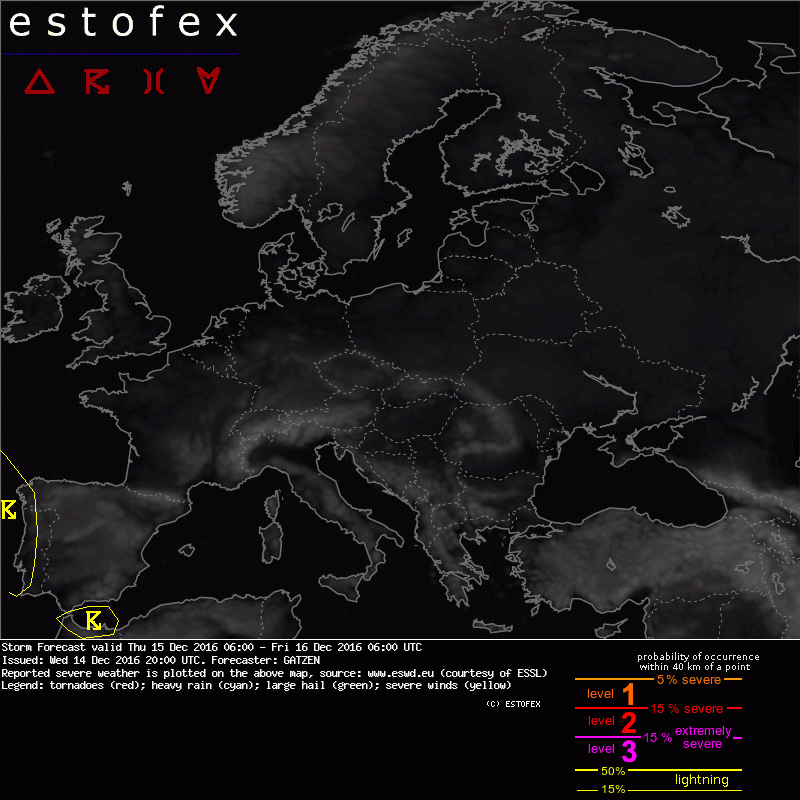 Storm Forecast
Valid: Thu 15 Dec 2016 06:00 to Fri 16 Dec 2016 06:00 UTC
Issued: Wed 14 Dec 2016 20:00
Forecaster: GATZEN
SYNOPSIS / DISCUSSION

Highly amplified situation affects Europe, with a ridge extending into Scandinavia and a deep trough over eastern Europe. An intense short-wave trough affects south-east Europe on Thursday. Furthermore, a cut-off low moves southward into Morocco. Another one forms upstream over western Iberia late in the period. Due to dry low-level air especially in the east and pretty weak lapse rates, most regions will not see any CAPE. An exception is the forming cut-off low west over Iberia. Maritime moisture of 6 g/kg will partly overlap with increasing lapse rates as the trough digs south. CAPE can exceed some hundreds J/kg west of Portugal late in the period. In the north-westerly flow, some thunderstorms are forecast over the warm sea surface. Shear is weak and storms are not expected to become severe. However, together with the cold frontal rain band, excessive precipitation is not ruled out. Onshore storms may weaken due to night-time stabilization.

A few further storms are expected early in the period south of Spain as the first cut-off moves over the warm sea surface. These storms may produce waterspout before convective activity weakens rapidly as the cut-off moves onshore.