Storm Forecast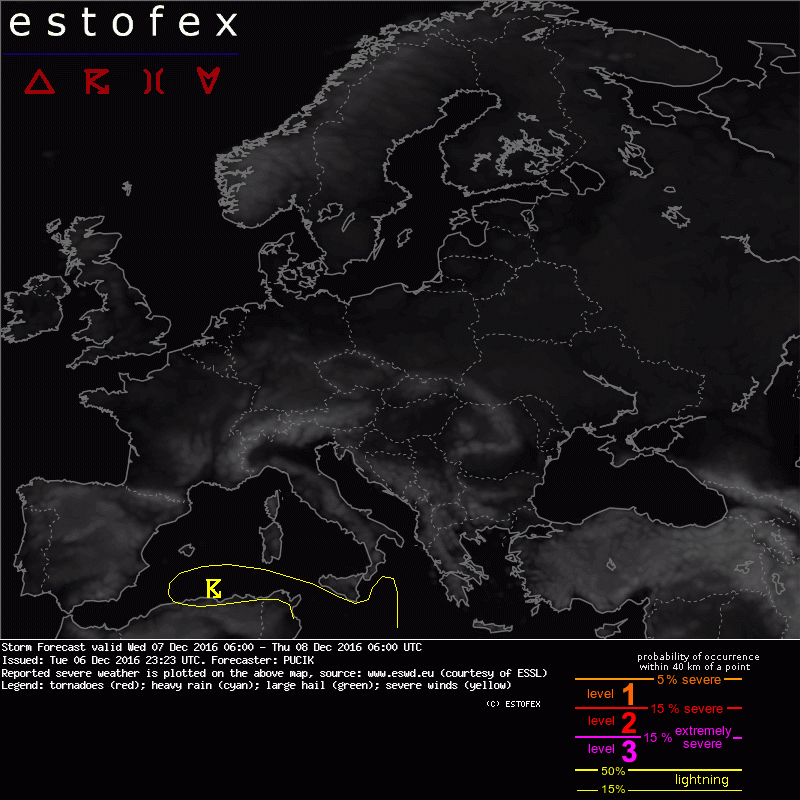 Storm Forecast
Valid: Wed 07 Dec 2016 06:00 to Thu 08 Dec 2016 06:00 UTC
Issued: Tue 06 Dec 2016 23:23
Forecaster: PUCIK
No threat levels have been issued

SYNOPSIS and DISCUSSION

Central parts of Europe are dominated by an extensive high pressure system at the lower troposphere with stable and dry conditions. At mid to upper troposphere, a ridge stretches from the Atlantic through Iberia into W Europe. Due to the colder airmass in the E part of Europe, a trough resides here, stretching towards the Central Mediterranean. Most of Europe will be under stable conditions with little or no chance for DMC occurrence. The only exception will be the S Mediterranean, along the African coastline, where moister airmass will contribute to marginal values of CAPE, mostly below 500 J/kg. With the convergence near the coastline, thunderstorms may form, deserving at least a low prob lightning line. Easterly coastline of Sicily will experience heavy rainfall, especially as the low level flow is oriented perpendicular to he coastline. However, convection is not forecast to greatly enhance the rainfall sums, thus not warranting a Lvl atm.