Storm Forecast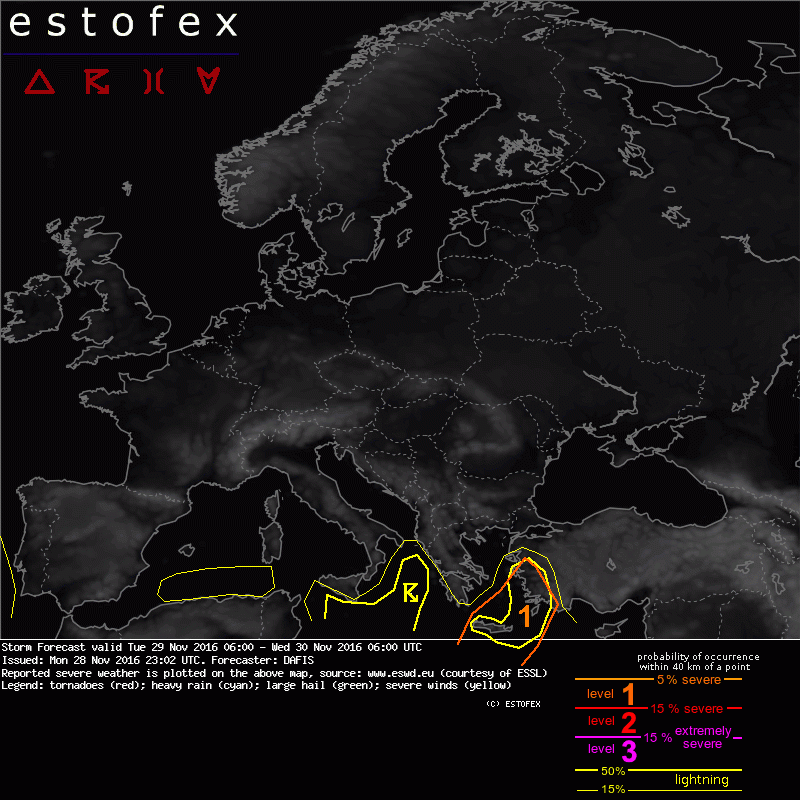 Storm Forecast
Valid: Tue 29 Nov 2016 06:00 to Wed 30 Nov 2016 06:00 UTC
Issued: Mon 28 Nov 2016 23:02
Forecaster: DAFIS
A level 1 was issued for S Greece and SW Turkey mainly for excessive precipitation and tornadoes.

SYNOPSIS / DISCUSSION

A positive tilted long-wave trough extends from Russia to central Mediterranean, where cold air masses will meet warm Mediterranean waters. On the surface, a large high pressure system prevails over Europe, and several low pressure systems around it are visible on the surface maps. During Tuesday, we expect DMC events in Central-East Mediterranean, where models predict noteworthy instability in the collision of a polar mass and warm/moist low level air masses. Another cyclone is found West of Portugal and will remain offshore throughout the period of this outlook, producing scatter thunderstorms.

An ongoing low level convergence zone in East Aegean Sea produces numerous of thunderstorms in a form of a squall line while this outlook is being written. This zone will leisurely move South during the early morning of Tuesday, and even if PW values do not exceed 20mm, persistent flow of moist air masses and lift enhanced by topography can lead to flash flood events. Moreover, after 12z due to cold advection from the north, large amounts of graupel may accumulate locally. Global models predict some hundreds of CAPE along with steep lapse rates (>7 K/km), strong LLS, as well as SREH0-3 values up to 300 mē/sē in the morning suggesting that thunderstorms may have strong rotation, able to produce tornadoes or tornadic waterspouts. Storms will gradually become weaker during the night and move SE-wards, with a new round of thunderstorm activity in Central Ionian Sea, as an upper-level low will form and will destabilize the air masses below.