Storm Forecast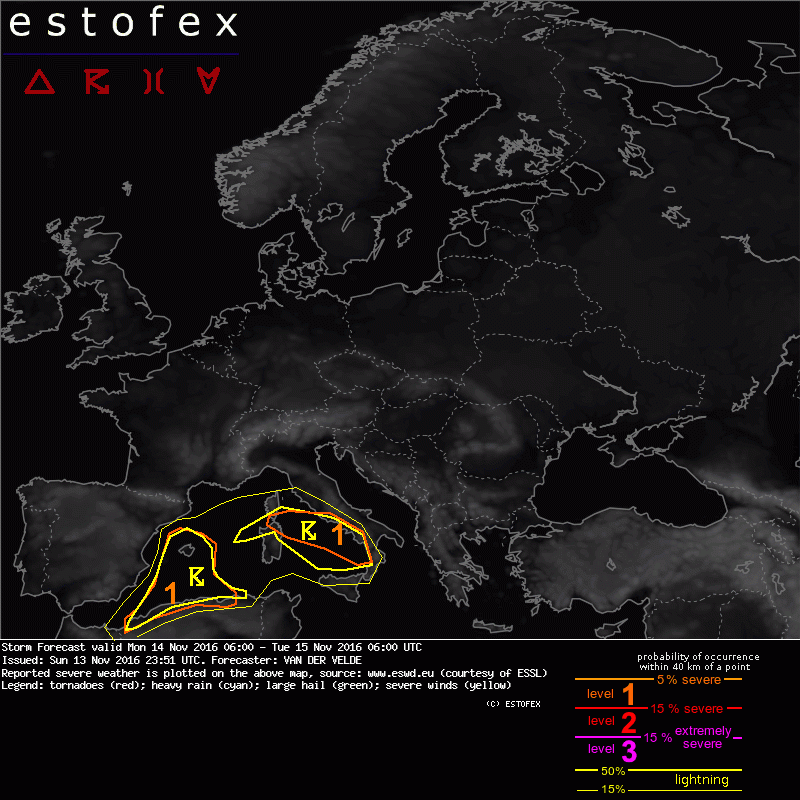 Storm Forecast
Valid: Mon 14 Nov 2016 06:00 to Tue 15 Nov 2016 06:00 UTC
Issued: Sun 13 Nov 2016 23:51
Forecaster: VAN DER VELDE
A level 1 was issued for Balearic Islands, Algerian coast and parts of the Tyrrhenian Sea, W Italy, Sardinia and Corsica mainly for isolated excessive convective precipitation and tornadoes.

SYNOPSIS

High pressure from the Azores to Poland separates depressions with tight pressure gradients in the N/NW of Europe from a low over the western Mediterranean and another over Ukraine. Upper/mid level troughs are active over the Baltic countries and over Romania. A warm front passes over UK, NW France, Benelux and Norway. The Mediterranean system creates an increasingly unstable setup as cold upper air moves in from the north. The PV advection of the upper trough produces lift to trigger widespread convection over SW Mediterranean between the Balearic Islands and Algeria.

DISCUSSION

Steep temperature lapse rates will create a few hundred J/kg MLCAPE over the southern half of the western Mediterranean Sea as the day advances. At 06Z strong lifting from differential vorticity advection is over the NE Iberian Peninsula moving to the Balearic Islands. During the late afternoon focus for convective activity shifts south of the Balearic Islands, with the Algerian coast affected from 18Z through the night. Storm motion will be <3 m/s, which can help spin up of vortices as waterspouts. This includes a stationary convergence zone west of the Italy coastline. Deep layer shear 20-30 m/s over the with high SREH over the islands in the W/SW Mediterranean Sea, which may help producing mesocyclonic tornadoes and perhaps isolated large hail. The level 1 includes also the threat of locally excessive convective precipitation where storms come ashore.