Storm Forecast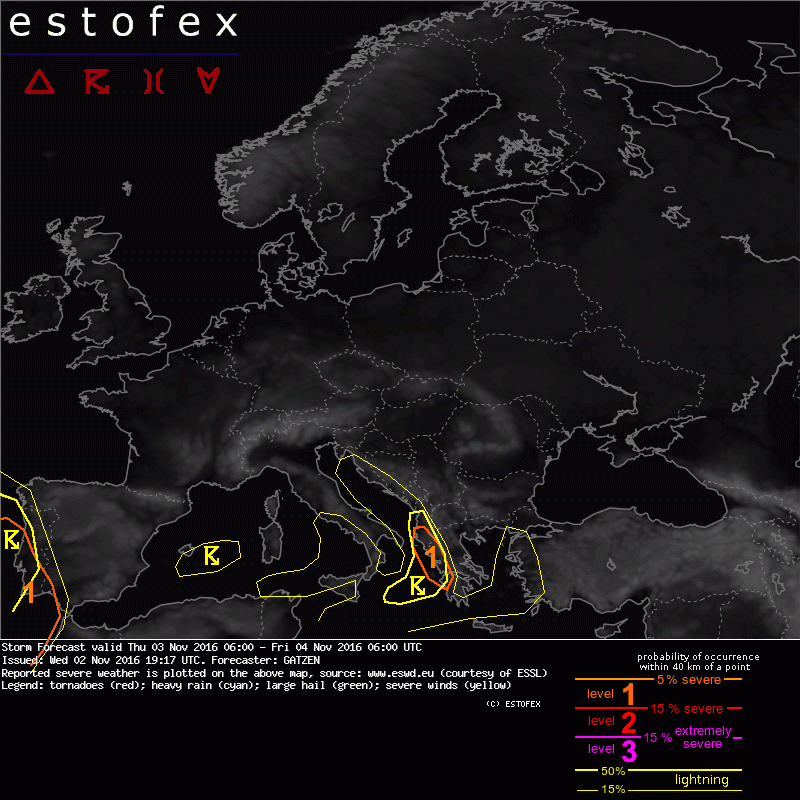 Storm Forecast
Valid: Thu 03 Nov 2016 06:00 to Fri 04 Nov 2016 06:00 UTC
Issued: Wed 02 Nov 2016 19:17
Forecaster: GATZEN
A level 1 was issued for southern Portugal mainly for excessive rain and tornadoes.

A level 1 was issued for south-western Albania and western Greece mainly for excessive rain.

SYNOPSIS

Polar air masses characterized by weak low-level moisture have flooded most of eastern and central Europe. Polar trough sweeps over eastern Europe where it starts to lift into Russia. In its wake, a vort-max affects the northern Balkans and Black Sea region. Weak ridging travels from the British Isles to central Europe, where embedded short-wave trough will allow for unsteady weather. Upstream trough digs into western Europe later on, causing a more zonal flow over central Europe.

The Mediterranean is dominated by anticyclonic shear at mid levels, with some mid-level troughs that migrate over the northern and eastern portions. Low-level winds start to back in the wake of the trough. This allows rich maritime moisture that has been pushed to the southern parts to spread northward again. An Atlantic trough affects far south-western Europe. This is associated with warm air advection into western Iberia.

DISCUSSION

Southern Portugal

In a warm and moist southerly flow, thunderstorms are expected to spread into the region during the day. Main activity will be connected to a warm front spreading northward during the day. These storms can produce strong precipitation. In the wake of the warm front, southerly low-level jet enters the region late in the period. Mid-level vort-max will be also crossing the area, associated with lift and increasing lapse rates. Best low-level moisture will be also pushed north-westwards late in the period, however, some overlap of instability and lift is expected and scattered showers and thunderstorms are forecast. Especially near the coasts, favourably veering profiles and strong (10 m/s) 0-1 km bulk shear are expected. Some mesocyclones are not ruled out capable of producing tornadoes. Late in the period, threat will weaken from the south due to the approaching drier air masses.

Central Mediterranean and western Balkans

Some showers and thunderstorms will go on during the period given some quasi-geostrophic forcing due to a passing short-wave trough. Weakly capped CAPE over the sea is advected onshore especially over southern Italy and south-western Balkans where excessive rain can affect land. Waterspouts are not ruled out. Threat is quite limited though and a level 1 is not issued at this time over most portions. Western Albania and Greece are highlighted due to the long fetch of low-level moist flow late in the period that can support training storms moving onshore.

Southern Mediterranean

African lapse rates overlap with rich Mediterranean moisture over the south Mediterranean just to the south of the forecast domaine. A weak mid-level short-wave trough passes during the day together with a low-level tongue of warm air masses, causing warm air advection. Some storms are expected to form during the day that can rapidly organize due to strong vertical wind shear in excess of 15 m/s in the lowest 3 km. Main threat will be large hail with supercells. The southern portions of the forecast domain may be affected but current models indicate that severe potential stays further south, though.