Storm Forecast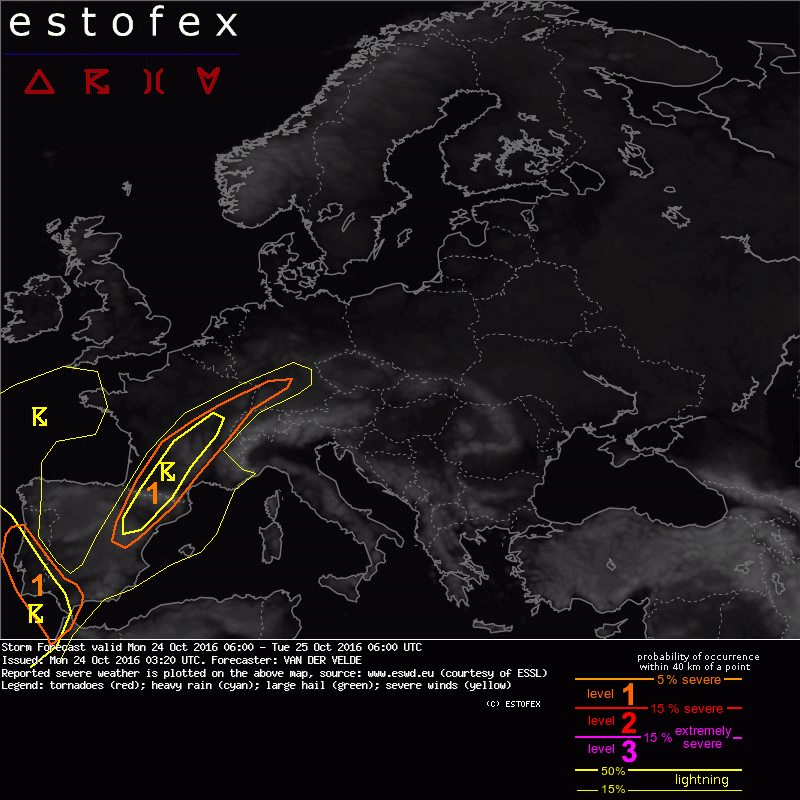 Storm Forecast
Valid: Mon 24 Oct 2016 06:00 to Tue 25 Oct 2016 06:00 UTC
Issued: Mon 24 Oct 2016 03:20
Forecaster: VAN DER VELDE
A level 1 was issued for SW Iberian Peninsula mainly for tornadoes, severe convective wind gusts, and excessive convective precipitation.

A level 1 was issued for NE Iberian Peninsula and SW France mainly for tornadoes, large hail and severe convective wind gusts.

A level 1 was issued for C France to SW Germany mainly for excessive convective precipitation.


SYNOPSIS

At surface level, a large low is present southwest of Portugal, affecting a region between western Africa and southwestern Germany. A strong high has formed over Russia, keeping a vast region from Turkey to much of Scandinavia under its stabilizing influence.
At 500 hPa, a 25-30 m/s southwesterly jet is present between the Atlantic low and the Mediterranean ridge, creating a kinematically energetic environment to interact with storms. Mediterranean moist low level air will be advected westward over eastern Iberian Peninsula and southern France and is overlapped by steep drops in temperature between the low and mid levels, creating unstable conditions. These lapse rates also cap most of the CAPE except for the region with sufficient lifting, indicated by GFS, WRF and AROME models over NE Spain to SSW and C France, where Mediterranean air mass meets Atlantic air in a more or less stationary frontal region. MLCAPE in the models ranges from 200-400 J/kg mostly, in the expected initiation zone.

DISCUSSION

...NE Iberian Peninsula, SW France...

Weak MLCAPE may limit severe weather extent even though there is 30 m/s 0-6 km shear and 0-3 km SREH values of 250-400 m2/s2 supportive of supercells or mesocyclones embedded in linear storms. Isolated large hail, severe gusts (storms can move at 25 m/s) and tornadoes (>10 m/s 0-1 km shear) are possible. The south side of the Pyrenees may see a sticky thunderstorm unloading excessive precipitation locally.
The coastal higher CAPE in the maps appears to remain capped, although some elevated convection seems to be possible in the evening along the Catalonia and S France coasts, looking at GFS uncapped parcel layer.

...C France to C Germany...

Shear and CAPE decrease toward the northeast along the front. The main threat will be isolated excessive convective precipitation as the front is highly stationary and storm initiation and motion will be parallel to it.

...SW Iberian Peninsula...

Weak cap, Moderate vertical shear and 0-1 km shear bordering on 10 m/s could mean storms with mesocyclones are quite likely, which can produce tornadoes and large hail. Severe wind gusts may be produced by storms closer to the jet over SW Spain. More threat would be expected from persistent thunderstorms clustering at the southwest coast of Portugal, which could cause excessive convective precipitation and floods.