Storm Forecast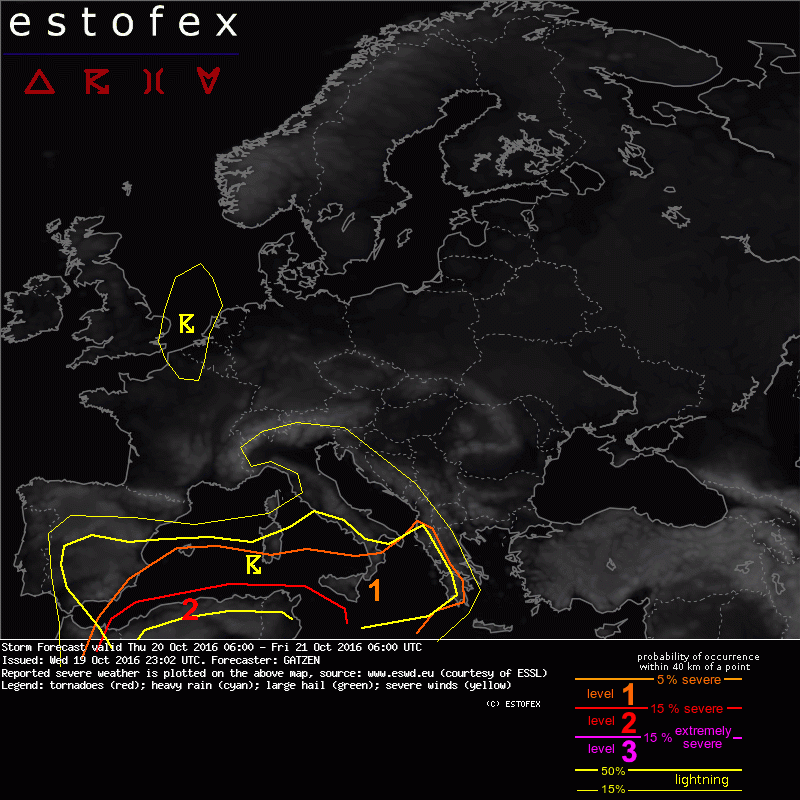 Storm Forecast
Valid: Thu 20 Oct 2016 06:00 to Fri 21 Oct 2016 06:00 UTC
Issued: Wed 19 Oct 2016 23:02
Forecaster: GATZEN
A level 2 was issued for northern Africa mainly for large hail and severe wind gusts and to a lesser extent excessive precipitation and tornadoes.

A level 1 was issued for the south and central Mediterranean mainly for excessive rain, severe wind gusts and to a lesser extent tornadoes.

SYNOPSIS

Quasi-stationary cut-off low centred over Germany yields a strong mid-level flow curving from the British Isles towards the north-west Mediterranean and further into eastern Europe. Embedded vort-max travels across northern Italy to Poland. At the southern periphery of the trough, another vort-max / mid-level jet streak affects the central Mediterranean. At low levels, rich moisture is limited to the Mediterranean. Best overlap with steep lapse rates can be expected over the southern portions where CAPE from 1 to 4 KJ/kg is expected by GFS.

DISCUSSION

South and central Mediterranean, southern Spain, northern Morocco, Algeria, Tunisia

Mediterranean moisture is advected onshore during the day and overlaps with a well-mixed air mass spreading north-east from the Atlas mountains. Highest CAPE will be forming to the east of Tunisia where lapse rates are best, but about 1 kJ/kg is possible along the coasts of Algeria and Morocco, too. Weaker CAPE is expected over Spain, but diurnal heating of a modest humid air mass can also result in some CAPE.

A capping inversion is expected especially near the African shores but will likely become weak due to the approaching vor-max from the west. Additional lift can be expected due to upslope flow and warm air advection with south-easterly winds at 850 hPa. Thunderstorms have already formed to the south of the Balearic Islands and over north-eastern Algeria and north-western Tunisia. On Thursday, convective activity will go on from the Balearic Islands towards Sardinia. During the day, additional storms are expected over northern Africa.

Vertical wind shear is expected to be strong over the Mediterranean Sea with 0-3 km bulk shear around 20 m/s. Storms are expected to organize into multi- and supercells, capable of producing large hail, severe wind gusts, and excessive rain. Tornadoes are most likely near the coasts where 0-1 km bulk shear is strong with 10 m/s, especially in the afternoon and evening hours. Storms are expected to cluster and move eastward during the day, affected the Ionian Sea late in the period. Severe threat will slowly weaken, despite a chance of tornadoes over Sicily and surroundings where low-level vertical wind shear is expected to be strong during the night hours.

Further storms are forecast to form over the Iberian Peninsula, where CAPE and vertical wind shear are weak, limiting severe weather threat. These storms can spread across the west Mediterranean late in the period.

Northern Italy

Lapse rates become steep over the southern Alps and northern Italy during the day as the mid-level vort-max passes the area. An overlap with quite rich Mediterranean moisture is expected over northern Italy, where upslope flow assists initiation. 0-6 km vertical wind shear is about 20 m/s. Weak CAPE limits severe potential, but some multicells and brief supercells are forecast. Excessive rain and large hail is not ruled out. Overall threat is limited, and a level 1 is not issued.