Storm Forecast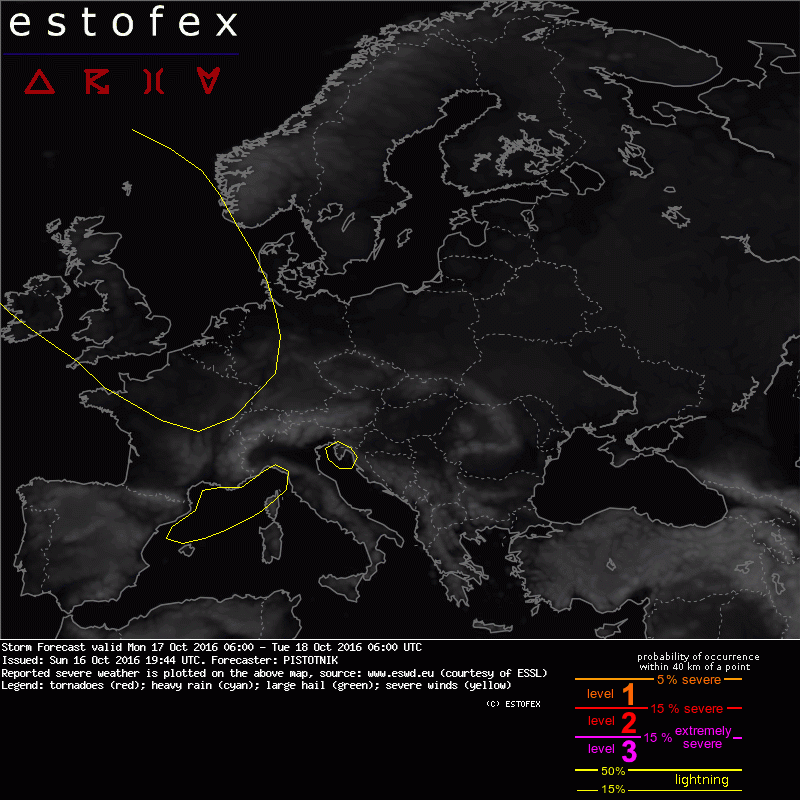 Storm Forecast
Valid: Mon 17 Oct 2016 06:00 to Tue 18 Oct 2016 06:00 UTC
Issued: Sun 16 Oct 2016 19:44
Forecaster: PISTOTNIK
No threat levels were issued.

SYNOPSIS

The blocking pattern over Europe gradually breaks up into a meandering, not too strong zonal flow.
Anticyclonic conditions prevail over S and E Europe. A strong surface high is centered over Belarus. The associated ridge axis at 500 hPa stretches from Italy towards Finland, slowly moving east while weakening.
Further upstream, a low-pressure system starts to dig from the British Isles towards Scandinavia and central Europe.

DISCUSSION

... NW into central Europe ...

Several surges of slightly cooler maritime air spread SE-ward at the southern flank of the cyclone. Showers may grow deep enough to produce a little thunder, especially beneath the various upper-level vorticity maxima where lift is fostered. Both CAPE and vertical wind shear are very limited due to the deep mixing. Severe weather is not expected.
Towards Tuesday morning, large-scale lift also overspreads the Lion Gulf, the Gulf of Genoa and the N Adriatic Sea, and first non-severe storms are possible there as well.

... S Mediterranean Sea ...

Cooler and drier air spreads south and pushes the past few days' CAPE reservoir towards the coasts of Algeria, Tunisia and - already outside our forecast domain - Libya. Despite robust CAPE values in excess of 1000 J/kg, a strong cap and lacking sources of lift make convective initiation unlikely.