Storm Forecast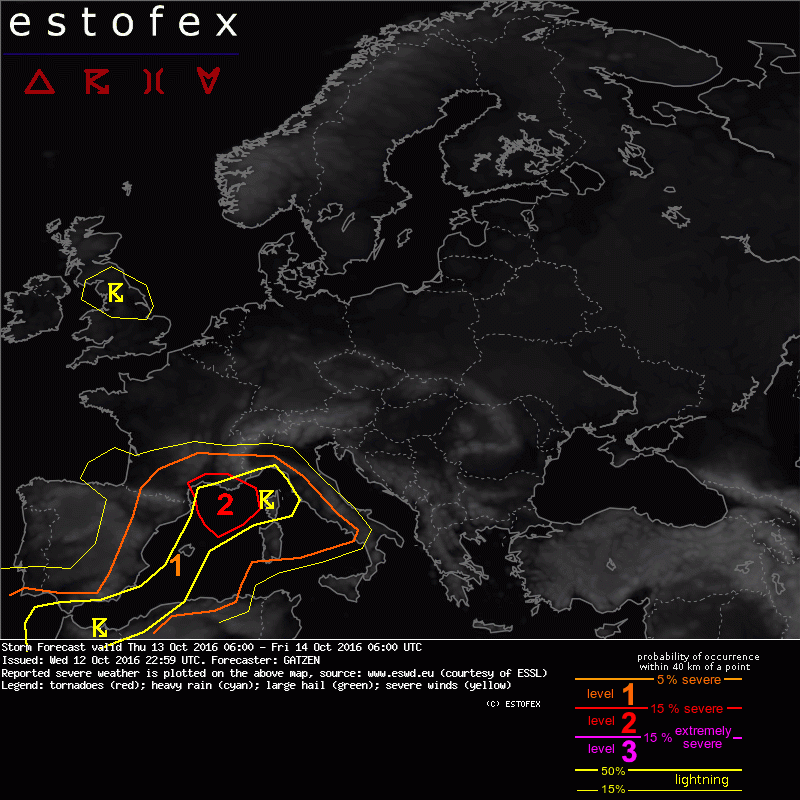 Storm Forecast
Valid: Thu 13 Oct 2016 06:00 to Fri 14 Oct 2016 06:00 UTC
Issued: Wed 12 Oct 2016 22:59
Forecaster: GATZEN
A level 2 was issued for north-eastern Spain and southern France mainly for excessive precipitation and to a lesser extent for tornadoes.

A level 1 was issued for parts of the west Mediterranean mainly for large hail, excessive precipitation, and severe wind gusts.

SYNOPSIS

Low geopotential over central Europe is connected to a trough west of Iberia. This trough will move east whereas its northern counterpart will reach the British Isles. Downstream of the forming west-European trough, a deep south-westerly flow evolves from the west Mediterranean towards central Europe, where heights will rise through-out the period. A remaining cut-off low will move east over the northern Black Sea region.

DISCUSSION

West Mediterranean

Ahead of the approaching Iberian trough, a strong south-westerly mid-level flow evolves over the west Mediterranean. It advects an elevated mixed layer from the Atlas mountains atop of the maritime boundary layer. This results in high CAPE up to 4 kJ/kg over the south Mediterranean and strong warm air advection especially over the north-west Mediterranean.

At low levels, a strong south-easterly flow evolves over the west Mediterranean and leads to an extended stream of moist air masses along a convergence towards southern France. While the moist air is capped over the southern portions, capping weakens over the west Mediterranean given ongoing low-level convergence and QG forcing. Over the north-west Mediterranean, mostly moist-neutral lapse rates are expected, with high moisture over a large depth of the troposphere.

Furthermore, the strong south-westerly low-level jet together with south-easterly surface winds lead to strong low-level vertical wind shear in excess of 20 m/s in the lowest 3 km. In this situation, strong training can be expected to result in sideward building MCSs from north-eastern Spain towards southern France and northern Italy. Excessive precipitation, also supported by topographic lift, is likely and also indicated by latest model runs. Tornadoes are not ruled out especially near the coasts where low-level buoyancy is best. Weak CAPE is the main limiting factor for deep moist convection over France. However, at least embedded storms can be expected, given weak capping some buoyancy close to the shores.

In the southern portions of the risk area, convection will be more isolated. Given high CAPE and vertical wind shear, supercells are not ruled out, capable of producing large hail and severe wind gusts. Excessive rain is also possible.

The severe weather threat is expected to continue also beyond the forecast period.