Storm Forecast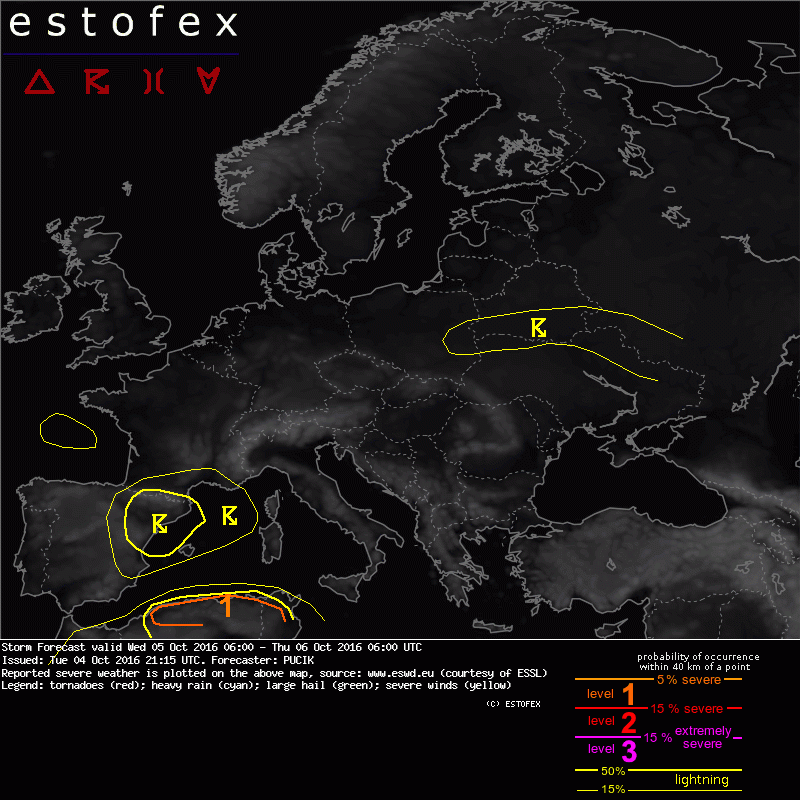 Storm Forecast
Valid: Wed 05 Oct 2016 06:00 to Thu 06 Oct 2016 06:00 UTC
Issued: Tue 04 Oct 2016 21:15
Forecaster: PUCIK
A level 1 was issued for northern Algeria mainly for chances of large hail and severe convective wind gusts.

SYNOPSIS and DISCUSSION

An omega pattern is simulated over Europe with high geopotentials at mid to upper troposphere stretching from the Northern Sea towards Scandinavia. At southern flanks of the high, two lows are simulated. The deepest one will be centered over Slovakia, Hungary and Ukraine with an arctic airmass intrusion at its western flank. Arctic airmass is forecast to make its way towards S Balkans. Lack of low-level moisture and/or steep lapse rates precludes any significant DMC activity in this area. Another, shallower low, will progress across Bay of Biscay to N Spain. Drop in the mid-tropospheric temperature and upward motion will contribute to steepening of the lapse rates over Spain and as a result, few hundreds J/kg of CAPE are forecast, especially close to the coastline, where more abundant moisture can be found. Scattered DMC is forecast, especially towards the evening and night hours.

An onshore flow of moist airmass with dewpoints around 20 deg C over Algeria and Tunisia will overlap the moisture with steep lapse rates and result in the latent instability with CAPE values btw 500 and 1500 J/kg along the coastlines. Thanks to the steep lapse rates and the presence of around 15 m/s of DLS, well organised cells may be capable of large hail and severe wind gusts.