Storm Forecast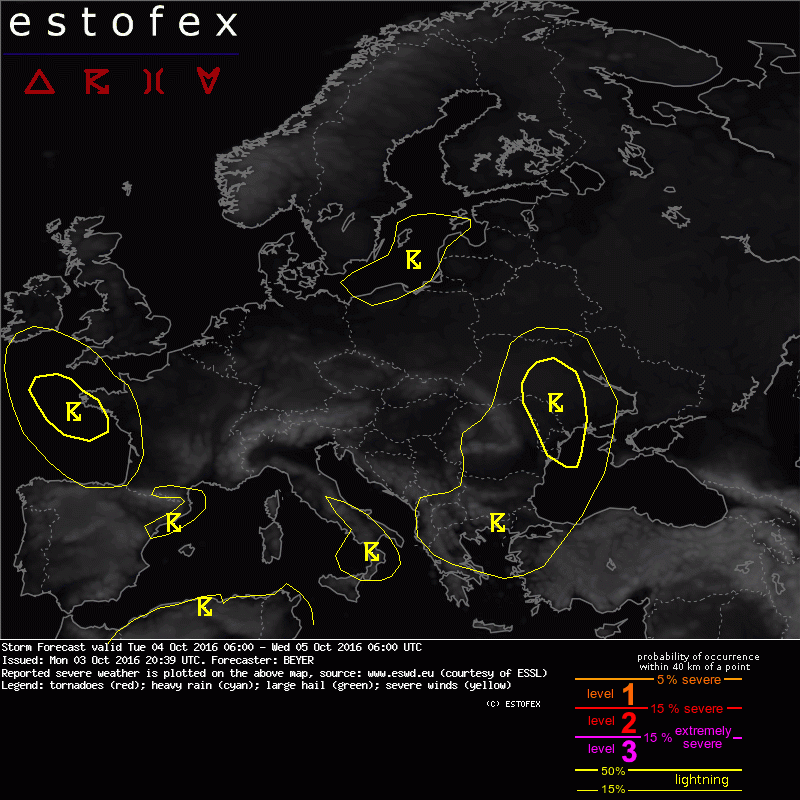 Storm Forecast
Valid: Tue 04 Oct 2016 06:00 to Wed 05 Oct 2016 06:00 UTC
Issued: Mon 03 Oct 2016 20:39
Forecaster: BEYER
No threat levels have been issued.

SYNOPSIS and DISCUSSION

A strongly meridional orientated general weather pattern is present over Europe. A highly amplified ridge extents from France to Scandinavia. During the forecast time an upper level low separates from that ridge whereas its center is forecasted between the North Sea and Southern Norway. This upper level high supports a remarkable strong surface high with almost 1050 hPa centered over Sweden. Stable conditions are present in the named regions.

Over the Bay of Biscay a small upper level low is forecasted that brings unstable conditions due to cold upper- and mid-level airmasses resulting in steep mid-level lapse rates. Most of the convective activity is forecasted over the sea.

Downstream a secondary surface low is forecasted over the Eastern Pyrenees and far Northeastern Spain. This leads to surface streamlines advecting humid LL airmasses from the Mediterranean to Northeastern Spain. Lapse rates are forecasted around 6.5 K/km. That will result in a few hundred J/kg of CAPE in the afternoon hours. This finally may lead to a few storms that should stay non-severe having in mind an only weak vertical wind shear.

Near the coast of Northern Africa humid airmasses from the Mediterranean can overlap with steep lapse rates from inland. With the help of the sea breeze front a few storms can initiate during the day. However, coverage is not expected to be widespread. In addition shear is forecasted to stay mostly weak. Therefore storms should stay non-severe.

An upper level low is active from the Northern Balkan Peninsula toward the Baltic States leading to unstable conditions. Especially from the Ukraine to Moldavia and the Black Sea several short-lived storms are expected. Stronger vertical wind shear is nearby but cannot really overlap with the CAPE values. Thus, again ... no severe weather is expected. However, if a better overlap develops during the day, locally large hail may occur.

Finally, the highest chance to see a waterspout can be found over the Southern Baltic Sea, especially near the Baltic States.