Storm Forecast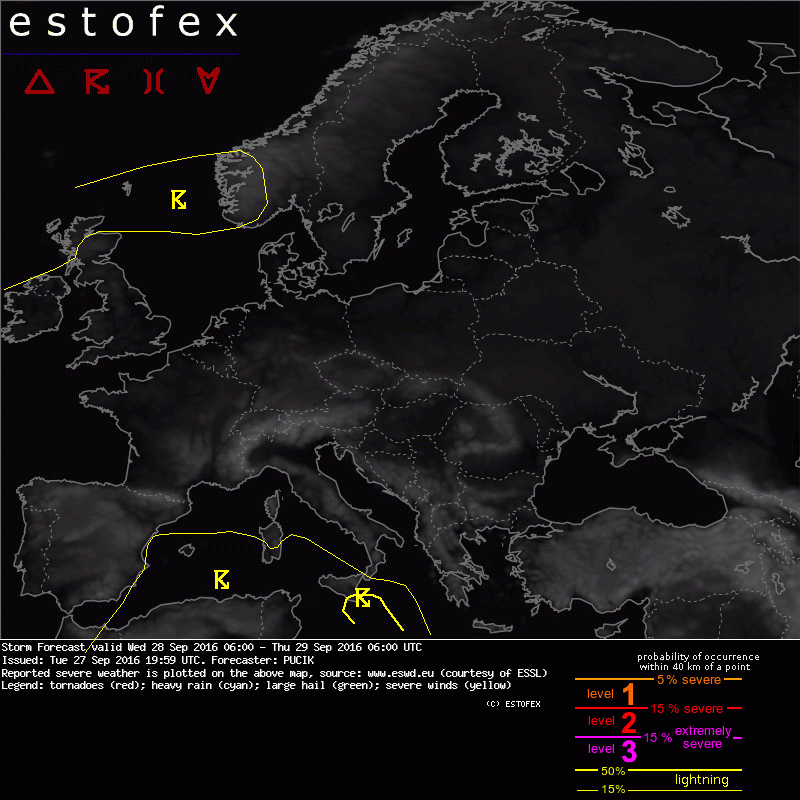 Storm Forecast
Valid: Wed 28 Sep 2016 06:00 to Thu 29 Sep 2016 06:00 UTC
Issued: Tue 27 Sep 2016 19:59
Forecaster: PUCIK
No threat levels have been issued.

SYNOPSIS and DISCUSSION

An extensive ridge stretching from the Atlantic towards France, S Germany and Austria will divide Europe into two different synoptic scale patterns. Over N part of Europe, a strong zonal flow with series of short-waves contributes to the unsettled weather pattern. In the evening hours, a short-wave associated with a deep surface low will cross just N of the British Isles and will progress overnight towards Norway. Models simulate a plume of steeper lapse rates that will advect over a tongue of moister airmass in the occlusion. Isolated to scattered and weakly electrified DMC is forecast and will likely be accompanied by strong wind gusts around 20 m/s.

Towards the S part of Europe, a mid to upper tropospheric low will progress from the SW Mediterranean inland towards N Africa. Weak latent instability with CAPE values on the order of hundreds J/kg is forecast underneath a relatively cool mid-tropospheric temperatures and in the lower tropospheric mixing ratios of around 10 - 12 g/kg. Isolated to scattered DMC will form. The strongest activity will likely be confined to the SE of Sicily, on the forward flank of small scale mid-tropospheric low and in the tongue of more abundant moisture. A lvl 1 was considered for heavy rainfall over SE Sicily, but most of the models simulate storms only over the sea.