Storm Forecast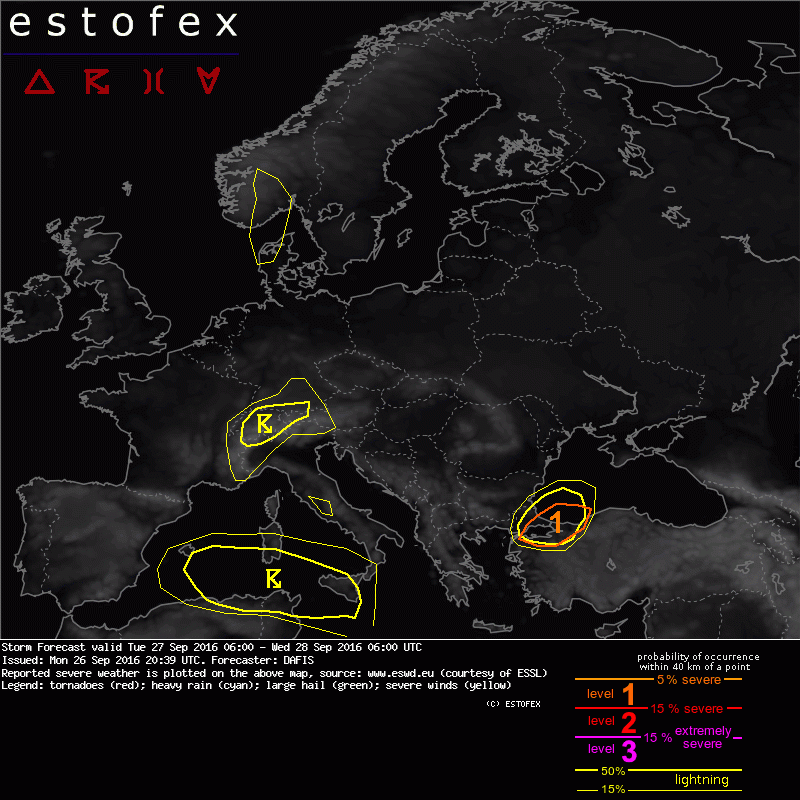 Storm Forecast
Valid: Tue 27 Sep 2016 06:00 to Wed 28 Sep 2016 06:00 UTC
Issued: Mon 26 Sep 2016 20:39
Forecaster: DAFIS
A level 1 was issued for NW Turkey mainly for large hail and severe wind gusts. Waterpouts are expected near the coasts.

SYNOPSIS

The Azores High will be the steering mechanism of the weather conditions in West and Central Europe as it stretches towards the NE. A shortwave trough associated with a vigorous low pressure system on the surface, crosses the North Sea, entering Scandinavia during Tuesday. Scotland and Norway are expected to experience gale force, but mostly non convective, wind gusts and possible storm surge. For the rest parts of the continent, a short wave trough will affect parts of NW Italy as well as Central Mediterranean basin where numerous pulsating storms are forecast with low probability of severe weather events as the instability is rather weak and kinematics do not suggest the development of MCSs or strong single cells. Another short wave trough is found over SE Balkans and Turkey will probably experience some large hail and severe wind gust events as instability overlaps with a mid-level jet streak.

DISCUSSION

.... Turkey ....

Cold mid-level air masses with moderate PV values are found over the mild Sea of Marmara and Black Sea. High resolution models such as WRF, BOLAM and MOLOCH suggest the development of about 1000 J/kg MLCAPE overlapping with 15-22 m/s DLS especially in the afternoon. There will be an unobstructed low level flow from the north, pushing moist and thus unstable air masses over the continental parts of the country. Directional but also speed wind shear may assist the formation of a MCS which will be able to produce large hail and severe wind gusts. Moreover, even if storms do not cluster, single cells will pose a threat for large hail and severe wind gusts in the afternoon. In the morning directional LLS and low LCLs will probably create a few waterspouts but this threat vanishes after 15z as LCLs will be higher and N-NE low level flow will increase in speed.