Storm Forecast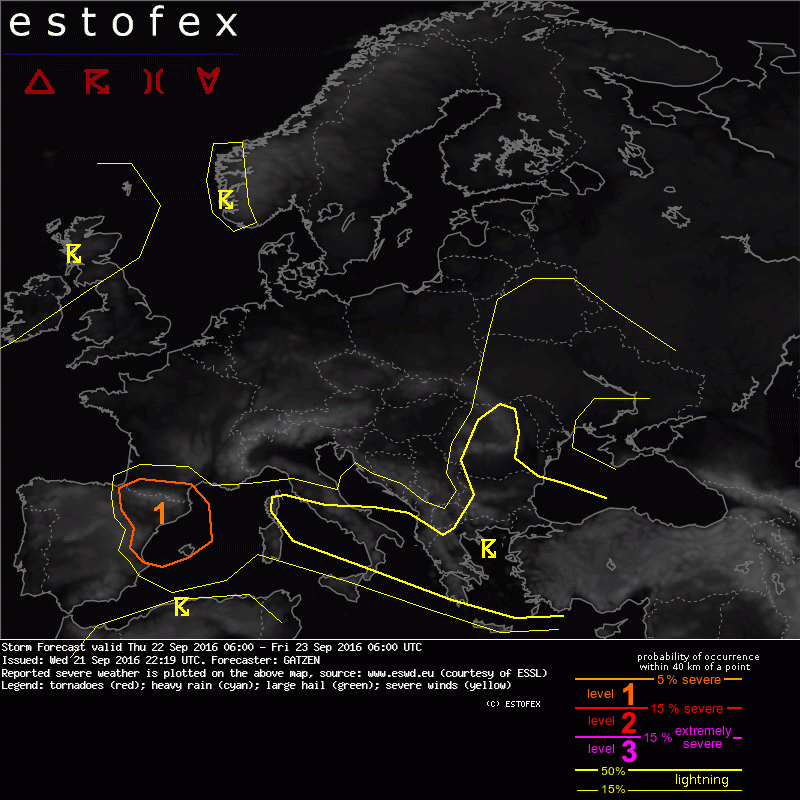 Storm Forecast
Valid: Thu 22 Sep 2016 06:00 to Fri 23 Sep 2016 06:00 UTC
Issued: Wed 21 Sep 2016 22:19
Forecaster: GATZEN
A level 1 was issued for eastern Spain and the west Mediterranean mainly for large hail and excessive precipitation.

SYNOPSIS

Ridge extending from the west Mediterranean towards central Scandinavia / Barents Sea is flanked by a closed mid-level vortex located over eastern Europe. At its southern periphery, an intense short-wave trough moves over the Balkans into the Black Sea. Further south, subtropical jet streak spreads across the eastern Mediterranean. At the western flank of the ridge, an intense trough migrates east over the British Isles into the North Sea, providing strong differential cyclonic vorticity advection. Its southward elongated trough axis enters the Iberian Peninsula late ion the period. At low levels, warm air advection sets in to the north and east of the Iberian plateau ahead of the trough axis. Downstream, this well-mixed air mass can overlap with rich Mediterranean moisture spreading west.

DISCUSSION

East Iberia, west Mediterranean

Latest observations already indicate dewpoints around 20°C over eastern Spain. The onshore advection of this moisture will increase during the day when the easterly low-level flow is superimposed with the sea breeze. A veering profile with westerly flow at 700 hPa advects mixed layers from the Iberian plateau, creating an unstable environment with CAPE around 1000 J/kg in the afternoon hours. Models indicate isolated initiation over the mountains of eastern Spain in the afternoon. Later in the period, some QG forcing may support a large coverage of storms that may spread north-eastward and eventually reaching southern France late in the period.

Despite quite high CAPE values in the afternoon, weak deep layer vertical wind shear will not support intense storms. Locally favourable veering profiles may support briefly rotating updrafts capable of producing same larger hail and possibly excessive precipitation. Later in the period, increasing mid-level flow could support multicells capable of producing excessive precipitation and large hail.

Greece

In a moist westerly low-level flow, thunderstorms have developed across the central and east Mediterranean. Lapse rates are limited as indicated by latest soundings. Warmer mid levels are present over the southern Mediterranean, leading to warm equilibrium levels.

On Thursday, a weak trough axis passes the region to the north, and some DCVA can be expected what can result in some more thunderstorms within the moist air mass. Vertical wind shear is weak, and severe thunderstorms are not expected. However, a brief excessive rain event cannot be ruled out, though.

Northern British Isles

An intense mid-level trough passes by over Ireland and Scotland in the afternoon and evening. CAPE is low due to relatively weak moisture and cool temperatures. However, strong low-level vertical wind shear could support shallow mesocyclones that could produce tornadoes in case of some stronger diurnal heating.