Storm Forecast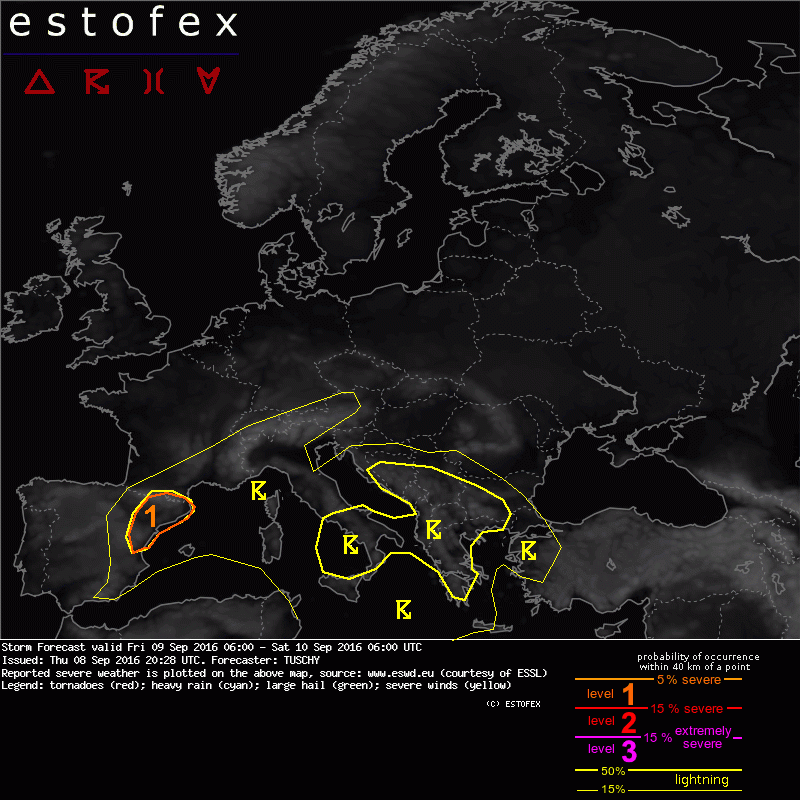 Storm Forecast
Valid: Fri 09 Sep 2016 06:00 to Sat 10 Sep 2016 06:00 UTC
Issued: Thu 08 Sep 2016 20:28
Forecaster: TUSCHY
A level 1 was issued for Catalonia mainly for large hail and excessive rain.

SYNOPSIS and DISCUSSION

Wavy trough-ridge-trough pattern affects N-Europe with no substantial shift to the east. Further south, a pronounced closed upper low still resides over the CNTRL Mediterranean and again reveals no significant forward motion. This stable pattern (motion-wise) results in scattered thunderstorms mainly over and next to the Mediterranean. The main bulk of activity occurs beneath the large-scale upper low, which includes an area from the Alps to Greece. Weak DLS and sub-1 kJ/kg MLCAPE support scattered multicells with locally heavy rain and gusty winds, next to graupel. A localized stronger but still sub-severe storm may erupt over the NE Aegean Sea and next to the Sea of Marmara, where DLS increases to 15 m/s. An isolated large hail event is possible.

Presence of rich maritime BL moisture and a northward crawling EML create 1-1.5 J/kg MLCAPE over Catalonia during the afternoon hours. CI occurs either diurnal driven over mountains or in response to the passage of a weak short wave, which rounds the base of the deep NE Atlantic trough. DLS of less than 10 m/s supports disorganized convection. Still, magnitude of CAPE my support a few intense updrafts with large hail and heavy rain and a level 1 was issued. Thunderstorms gradually weaken until midnight.

Else, isolated thunderstorms develop over a broad area. During the night, the main activity starts to shift offshore within the highlighted areas. This activity remains sub-severe.

We will keep an eye on the cold front passage over NW-Europe, linked to a rapidly NE-ward swinging mid-level trough. There will be a short time-frame around 18-21 UTC (according to GFS), where a dry slot and the eastbound moving cold front overlap. However, strongest lift will already be displaced to the east with strong subsidence indicated. Nevertheless, models agree in weak CAPE build-up along / just behind that front and a temporarily better structured convective line can't be ruled out N of Ireland and over Scotland. The main threat would be strong wind gusts. Whether a low-end tornado risk evolves cannot yet be answered due to ongoing differences of aforementioned features in various models. Overall uncertainties preclude the issuance of any lightning area for now.