Storm Forecast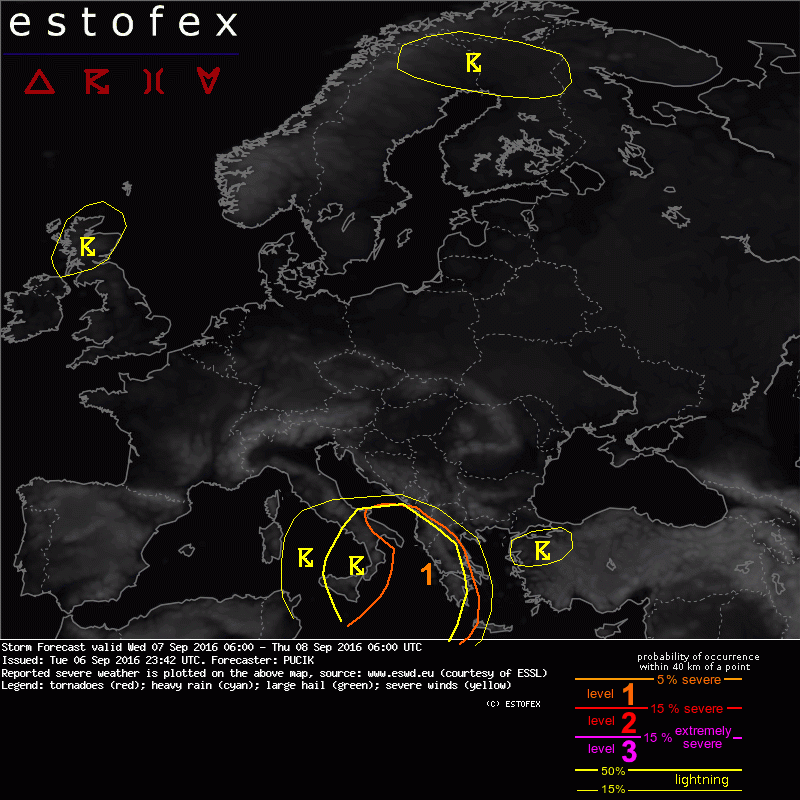 Storm Forecast
Valid: Wed 07 Sep 2016 06:00 to Thu 08 Sep 2016 06:00 UTC
Issued: Tue 06 Sep 2016 23:42
Forecaster: PUCIK
A level 1 was issued for parts of E Italy and for Albania mainly for excessive precipitation.

A level 1 was issued for Greece mainly for excessive precipitation and to the lesser degree for large hail and tornadoes.

SYNOPSIS and DISCUSSION

At mid to upper troposphere, a ridge will stretch from Iberia through much of W and Central Europe towards Ukraine. This ridge will split a strong zonal flow regime to the N and a quasi-stationary cut-off centered over Sicily. A short-wave trough with deep low pressure system over the Atlantic will affect British Isles during the forecast period.

Most of Europe will be under rather stable conditions due to the meager low-level moisture and weak lapse rates. More or less the only exception will be the area of cut-off low over the Central Mediterranean. The highest risk will exist especially over the E Ionian Sea and adjacent coastlines, where a tongue of abundant low-level moisture (dewpoints over 20 deg C) will impinge inland. At the same time, steep lapse rates have been advected from Africa, contributing to considerable latent instability. The highest threat will be especially present during the Wednesday night as a short-wave approaches the region with windspeed max. As both low and mid-tropospheric flow strengthens, well organised DMC is forecast in the regime of strong vertical wind shear. Large hail may occur thanks to steep lapse rates and tornadoes are possible too. However, the primary risk will be excessive precipitation with possibility of training pattern of convection. Eastern Spain will also see a favourable overlap of low-level moisture and steep lapse rates, but significant capping should preclude any initiation over the area.