Storm Forecast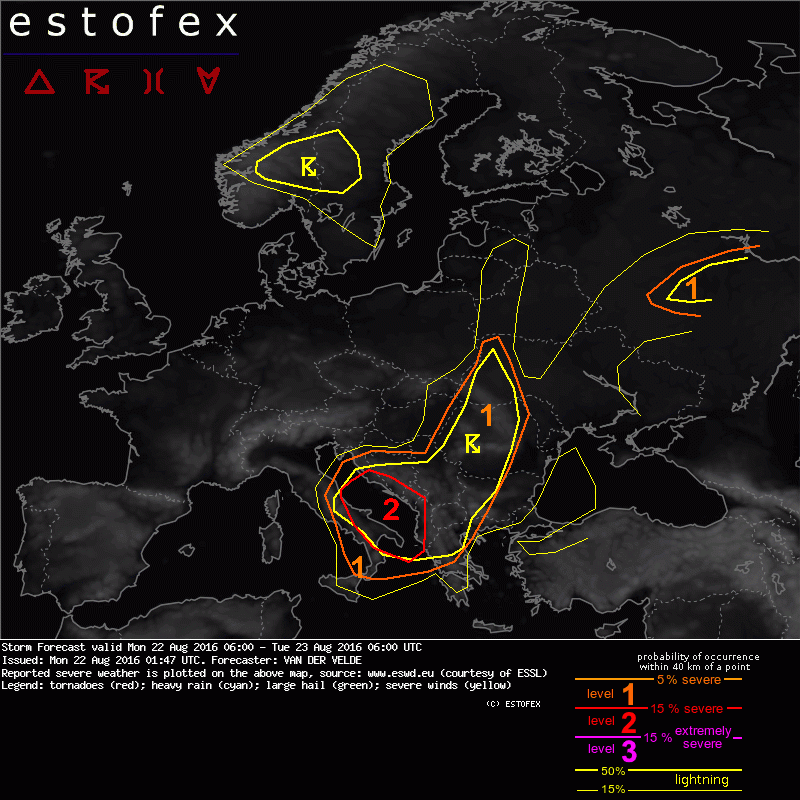 Storm Forecast
Valid: Mon 22 Aug 2016 06:00 to Tue 23 Aug 2016 06:00 UTC
Issued: Mon 22 Aug 2016 01:47
Forecaster: VAN DER VELDE
A level 2 was issued for S Italy and W Balkan mainly for large hail.
A level 1 was issued for the Balkan, E Hungary and W Ukraine mainly for excessive convective precipitation.
A level 1 was issued for a part of Russia mainly for large hail and severe convective wind gusts.

SYNOPSIS

An upper/mid level trough shifts eastward from central Europe to the Balkan. A frontal region stretches between Balkan and Finland. The southern end of the trough starts cutting off and become a cold pool. High pressure over France diverts frontal systems over UK and Netherlands. Scandinavia experiences unstable conditions.

DISCUSSION

...Balkan, Italy...

Weak MLCAPE is found across the Balkan in GFS. The west side is very humid while the right side has LCL heights over 2500m, making initiation difficult. The slow front-parallel storm motion, mainly over W Romania and northward could produce some excessive rain chances as the frontal system likely will initiate many thunderstorms. 5-10 m/s DLS may just keep systems alive enough.
Within the level 2 area, lift from the upper trough is strong, while the cap gets stronger toward the southeast. Moderate shear and over 1000 J/kg MLCAPE support active multicell storms which may produce large hail as well as excessive rain when a storm moves slowly along the coast. Waterspout type tornadoes could make their appearance across Adriatic Sea and surrounding area.

... Russia...

More capped in GFS is the 2000 J/kg MLCAPE over this region, where an old cold pool stirs up initiation. Large hail and severe wind gusts are possible when this energy is converted in storms, with Delta Theta-E over 15 K showing the large potential for evaporational cooling for strong downdrafts.