Storm Forecast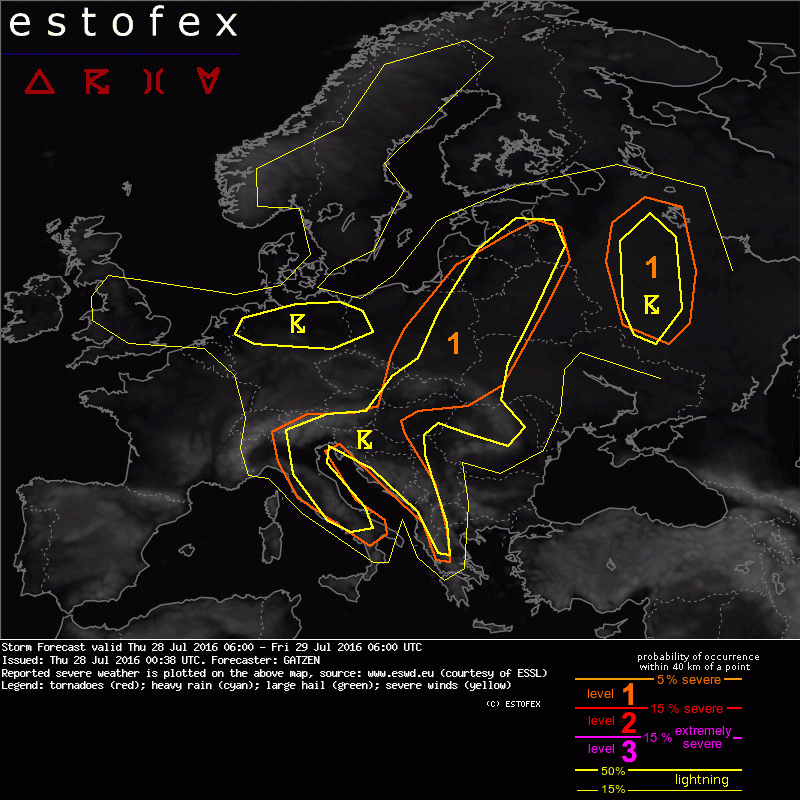 Storm Forecast
Valid: Thu 28 Jul 2016 06:00 to Fri 29 Jul 2016 06:00 UTC
Issued: Thu 28 Jul 2016 00:38
Forecaster: GATZEN
A level 1 was issued for eastern Poland, western Ukraine and Belarus into the Baltic States mainly for excessive rain and to a lesser extent large hail.

A level 1 was issued for southern Alps, northern and central Italy, and the northern and central Balkans as well a Hungary mainly for excessive precipitation and large hail.

A level 1 was issued for western Russia mainly for excessive rain and large hail.

SYNOPSIS

A polar trough is centred across the Norwegian Sea, yielding a strong westerly flow over western Europe. Low geopotential also extends towards eastern Europe, where weak mid-level winds are present. Short-wave troughs have entered central and eastern Europe. A lifting trough will affect the Baltic Sea region, followed by a short-wave trough than enters central Europe from the west. A mid-level trough will slowly move from the Alps towards the Balkans. Another short-wave trough moves south-east across western Russia. At low levels, moist air masses are situated along a frontal boundary from northern Italy to the Baltic States and over western Russia.

DISCUSSION

Northern Italy to northern Balkans

In the range of the upper level trough, quasi-geostrophic lift is expected to spread east during the day. Rich low-level moisture is in place that overlaps with slightly unstable lapse rates. Convective activity is expected already in the morning hours along a frontal boundary entering the northern Balkans from the north. Thunderstorms are forecast to spread along the sea breeze convergences of Italy and the Balkans later in the day when diurnal heating will lead to increasing instability.

Vertical wind shear will be weak, but relatively large CAPE could support multicells capable of producing large hail. Main threat is excessive rain due to the slow storm movement and rich moisture in the lower levels.

Poland to Baltic States

Along the frontal boundary, moist profiles and CAPE around 1000 J/kg is forecast. Thunderstorms are likely given low-level convergence and upper-level divergence near the right entry of a mid-level jet lifting over the Baltic Sea. Widespread convective activity, mostly moving along the frontal boundary is expected to support excessive rain. Weak vertical wind shear will limit storm organization, though. Marginally severe hail will be possible with the stronger storms.

Western Russia

Along the digging short-wave trough over western Russia, thunderstorms are expected to develop in a moist and unstable air mass with CAPE exceeding 1000 J/kg. Although CAPE is weak, a few multicells are not ruled out, capable of producing large hail. The main threat will be excessive rain, though, given the moist profiles.