Storm Forecast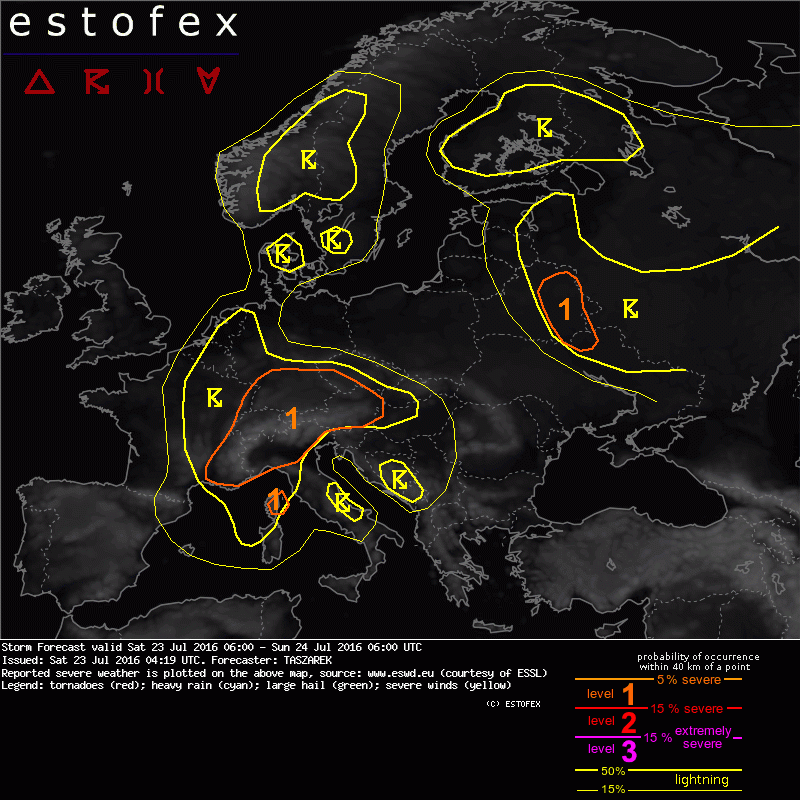 Storm Forecast
Valid: Sat 23 Jul 2016 06:00 to Sun 24 Jul 2016 06:00 UTC
Issued: Sat 23 Jul 2016 04:19
Forecaster: TASZAREK
A level 1 was issued for Alpine area and surroundings, and Corsica mainly for excessive precipitation, large hail and in lesser extent for severe wind gusts.

A level 1 was issued for E Belarus and part of Ukraine mainly for severe wind gusts, large hail and excessive precipitation.

SYNOPSIS

A weakly defined pressure and geopotential field with weak horizontal airflow covers most of the Europe. A 1020 hPa ridge associated with Azores High runs into S British Isles, North Sea, France, Benelux and S Scandinavia. Almost stationary low is placed on the Russian/Ukrainian border. A blurred pressure field with local meso-lows over CNTRL, S, SE and SW Europe extends from 1010 to 1020 hPa. Nearly stationary weakly pronounced long wave trough is placed in the axis from Switzerland to NW Mediterranean. Mid-level airflow in the most of the European domain is weak and extends from 5-10 m/s over most of the CNTRL, N and SE Europe to 10-15 m/s within the lows over NW Mediterranean and Russian/Ukraine border. N, W, and E Europe remains in the homogeneous warm polar air mass while the tropical air is placed over Mediterranean basin and Balkan Penninsula. Thanks to strong diurnal heating, thunderstorm are expected to develop along the horizontal temperature gradient zones on the eastern flank of the previously aforementioned wave. DMC will also occur within low over W Russia and parts of Scandinavia with enhanced boundary layer's moisture.

DISCUSSION

... Alpine area and surroundings, Corsica...

Due to weak atmospheric airflow, convection will take place in weakly sheared environment with only local areas where 15 m/s DLS will be available. Thanks to this, thunderstorms will be moving slowly and within > 30-35 mm PW spreading over Benelux/E France/W,S Germany/Czech Republic/Austria and N Italy will pose a threat for excessive precipitation. Level 1 denote area where NWP models provide the most consistent signal in producing CI and strong precipitation. DMC will be triggered thanks to PVA lobes moving into this area. Although lapse rates will be not impressive (< 7 K/km), mixing ratios of around 12-13 g/kg along with diurnal heating may produce CAPE up to 1000-1500 J/kg, exclusively up to 2000 J/kg. With 10-15 m/s DLS, ordinary convection will be merging into multicell clusters capable of producing 2-3cm hail and occasional local severe wind gusts. A few supercells developing thanks to local wind field interactions within Alpine area cannot be ruled out, within these large hail may be expected. In the area of E France through Benelux where DLS will drop to 5-10 m/s, pulse thunderstorms may occur. Although moderate instability will be available in the NW Mediterranean, a strong cap will inhibit CI. However, according to NWP, a local CI and thunderstorm event may be possible over Corsica where 20 m/s DLS and 2000 J/kg CAPE cannot rule out a large hail/severe wind event.

...E Belarus and part of Ukraine...

A well pronounced convergence line will develop on the western flank of the low centred over W Russia. Thanks to moisture pooling, mixing ratios will jump to 10-12 g/kg and within diurnal heating develop CAPE up to 1500-2000 J/kg. Although DLS will be rather low (~ 10 m/s), an enhanced flow in low levels (MLS ~ 10 m/s, LLS ~ 7.5 m/s) and persistent convergence, thunderstorms will develop along the converging wind zone, and moving south-westwardly will pose a risk for severe wind gusts, large hail up to 2-3cm and excessive precipitation.