Storm Forecast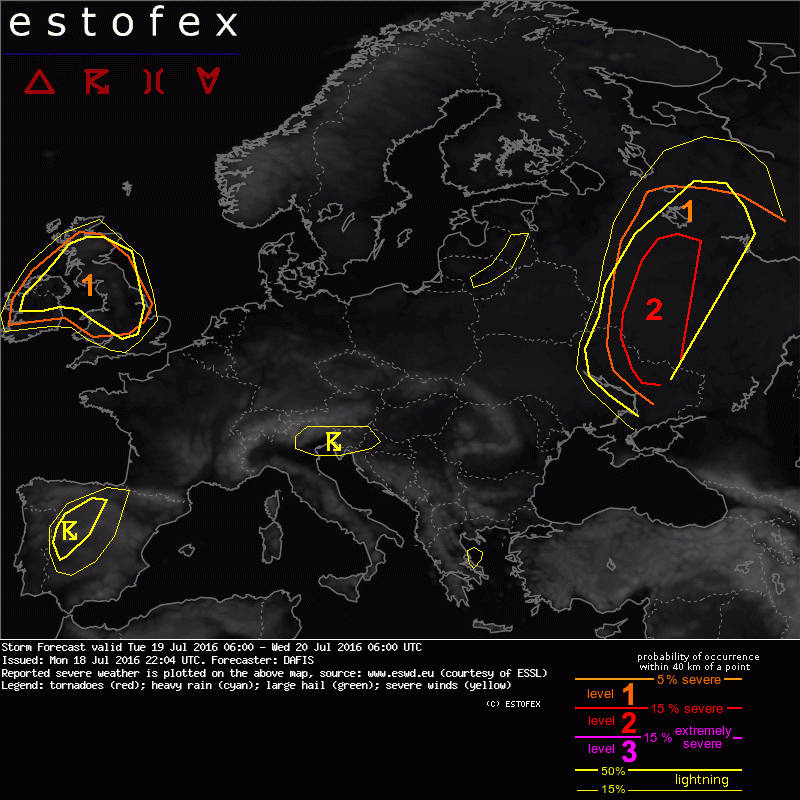 Storm Forecast
Valid: Tue 19 Jul 2016 06:00 to Wed 20 Jul 2016 06:00 UTC
Issued: Mon 18 Jul 2016 22:04
Forecaster: DAFIS
Levels 1 and 2 were issued for parts of NE Ukraine and W Russia mainly for excessive rainfall, severe wind gusts, large hail and tornadoes.

A level 1 was issued for parts of Ireland and UK mainly for excessive rainfall.

SYNOPSIS

A strong ridge is formed in West and Central Europe, while a shortwave trough approaches Ireland and British Isles from the west during this outlook. Low geopotentials exist over East Europe where a shallow surface low pressure system stays almost stationary, advecting warm and moist air masses from the Black Sea. The advection of very steep lapse rates and a jet streak over Iberian Peninsula increase the threat of isolated strong thunderstorms, but CI is questionable taking into consideration the dry BPL and the strong cap. The lack of low level lift in NE Italy and Slovenia keeps CI probability low, but any storm that will manage to evolve could produce hail up to 2cm into an environment with steep lapse rates and locally 1 kJ/kg CAPE.

DISCUSSION

.... NE Ukraine and W Russia ....

A stationary frontal zone extends from NW Russia down to N Ukraine, where moist and warm BPL along with steep mid-level lapse rates of 7-8 K/km create up to 2500 J/kg of MLCAPE. All kinds of severe weather are expected, but mostly excessive convective precipitation and tornadoes will be the main threats. Clustering of storms should begin early, before 12z and a broken line with bowing line segments could evolve. Any more discrete cell could bring marginal/isolated large to very large hail and strong wind gusts. Diurnal driven pulsating storms evolve in level 1 area, within a weakly sheared environment. Marginal hail and locally heavy rain will be the main hazard. An isolated large hail event is possible over SW Russia, where steep lapse rates cause some fat mid-tropospheric CAPE profiles in forecast soundings. We cannot rule out an isolated tornado event as low LCLs and >10 m/s LLS overlap during the whole period of this outlook. Storm activity will continue well into the night.

.... Ireland and UK ....

Generally, the synoptic scale forcing is weak (advection of vorticity), but persistent WAA, LL moisture advection from the south and steep lapse rates create an environment with modest MLCAPE (1000 - 2000 J/kg - maybe more according to GFS) with a weak cap. Scattered thunderstorms will evolve during the day and will move in general towards the NE. 15-20 m/s 0-6 km bulk shear, high PW values (abate large hail threat) and low level veering within ongoing WAA regime in that CAPE environment support a favorable set-up for severe thunderstorm development. On the other hand, forecast soundings are not very favorable for long lasting DMC, as curly hodographs denote splitting multicells. The main threat will be excessive rainfall due to slowly moving storm cells that can cluster into short-living supercells. Nocturnal convection will also pose a threat for excessive rainfall and locally strong wind gusts. After 18z the increasing LLS, in the range 7-10 m/s, overlapping with some hundreds of CAPE, cannot exclude one or two tornadoes/landspouts in central parts of the UK.