Storm Forecast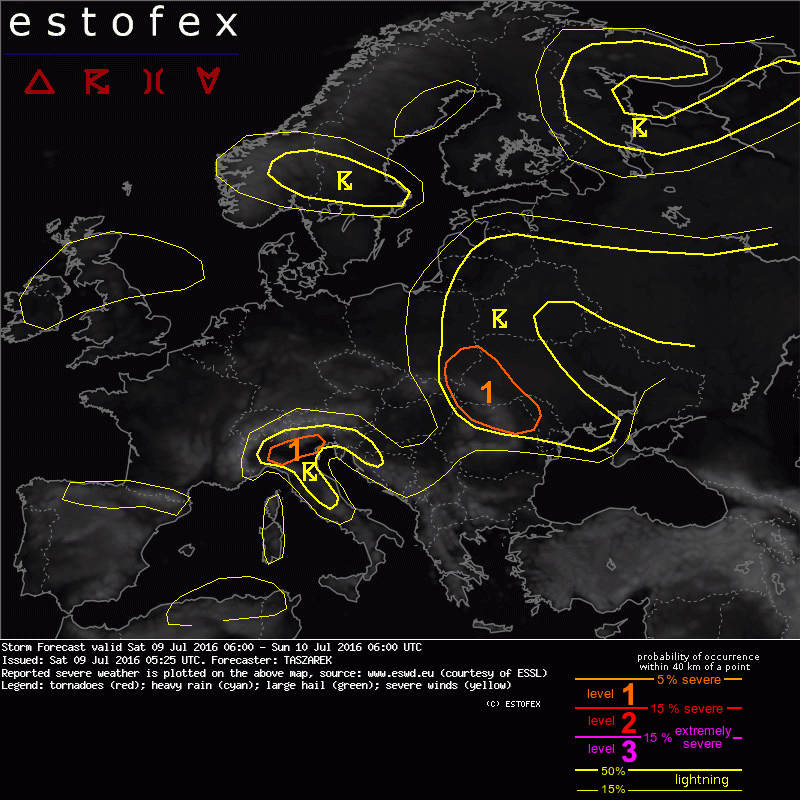 Storm Forecast
Valid: Sat 09 Jul 2016 06:00 to Sun 10 Jul 2016 06:00 UTC
Issued: Sat 09 Jul 2016 05:25
Forecaster: TASZAREK
A level 1 was issued for SW Ukraine, SE Poland, N Romania, N Moldova, E Slovakia mainly for large hail and severe wind gusts.

A level 1 was issued for N Italy mainly for large hail and excessive precipitation.

SYNOPSIS and DISCUSSION

A zonal configuration of mid-level geopotential field over W, CNTRL and E Europe favours an advection of marine polar airmass from Atlantic. At surface layer an eastwardly moving trough with active cold front is placed W of British Isles. A weak high with increasing theta-e values overbuilds over Alpine region. An eastwardly moving warm front associated with a trough over British Isles passes trough CNTRL Europe and in the end of the forecast period extends in a zone stretching from S Baltic Sea, trough CNTRL Europe, up to CNTRL Balkans. A blurred pressure field covers most of the E and SE Europe. Jet stream stretches from British Isles, trough S Scandinavia, up to Poland and Romania. Thunderstorm activity falls mainly on the E Europe where within 9-10 g/kg mixing ratio and relatively cool airmass as for summer(850 hPa temperature ~ 6-8C), a small to moderate instability (500-1500 J/kg) develops thanks to diurnal heating. Thermal thunderstorms should develop in the afternoon hours and fade in the late evening. Due to very low vertical wind shear and not impressive vertical moisture profile, a severe weather potential is strongly limited. Although a local severe wind or hail event cannot be ruled out, the general threat lies below 5% coverage criteria denoted by lvl 1. Isolated to scattered thunderstorms locally clustering into multicells should be the dominant mode. Although storm motion will be low, excessive potential should be limited by fairly low PW values. A zone of a local overlap of 500-1000 J/kg CAPE with a jet streak resulting in 15 to 25 m/s DLS will stretch from SE Poland to N Moldova. Thunderstorms developing in this area may have a potential of transforming into multicell clusters and supercells capable of producing large hail (up to 3-4cm) and local severe wind gusts. Another severe weather potential exist over N Italy, where where a local moisture advection/accumulation (mixing ratios 12-13 g/kg) will result in an increase of CAPE up to 2000-2500 J/kg. Although, environment will be mostly weakly sheared, a mesoscale interactions with Alps may enhance storm organization into multicells where large hail, severe wind (local mixroburst/downburst event) and excessive precipitations given high moisture content will be possible.