Storm Forecast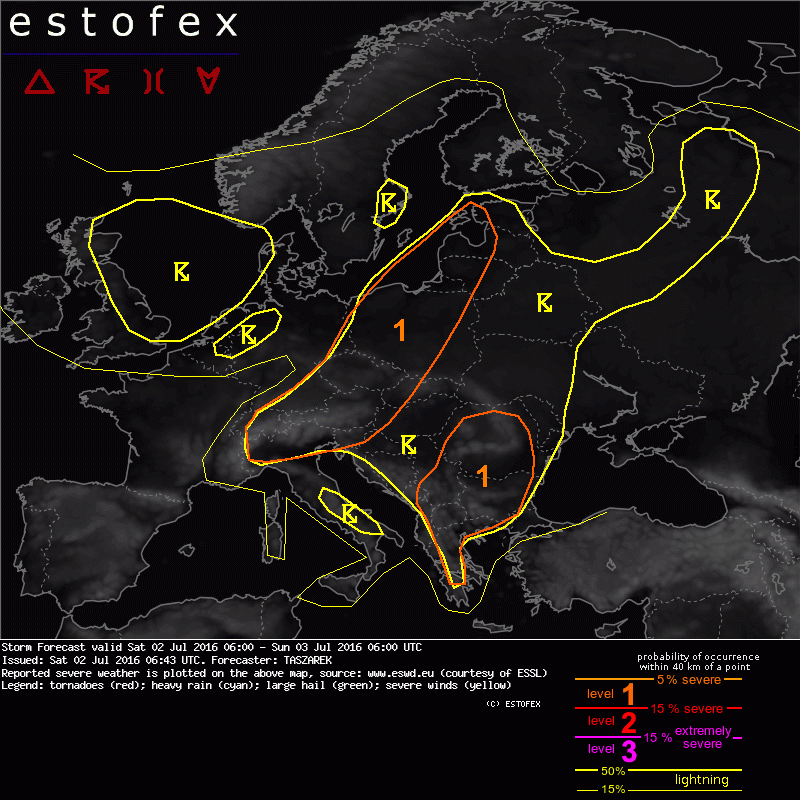 Storm Forecast
Valid: Sat 02 Jul 2016 06:00 to Sun 03 Jul 2016 06:00 UTC
Issued: Sat 02 Jul 2016 06:43
Forecaster: TASZAREK
A level 1 was issued for a corridor extending from N Italy up to Baltic Countries mainly for large hail, severe wind gusts and excessive precipitation.

A level 1 was issued for parts of SE Europe, mainly for excessive precipitation, large hail and severe wind gusts.

SYNOPSIS

Europe is divided into three large synoptic-scale features in the shape of reversed omega pattern that influences weather on the most of the continent: a broad low N of British Isles, high over W Russia, Belarus and Ukraine, and a ridge over SW Europe and CNTRL Mediterranean. A cyclonically curved jet stream stretches from Ireland, trough Benelux, up to W Scandinavia. An active cold front extending from Scandinavia trough CNTRL Europe, up to Alps moves eastwardly during forecast period. Air mass in the warm sector, ahead of the front remains moderately unstable and create a good conditions for the widespread development of a low sheared thermal thunderstorms. Elevated threat for severe thunderstorms falls on the frontal boundary, where a strong forcing and increased airflow (and thus vertical shear) provides better organisation of the storms. Scattered thunderstorm are also possible behind the cold front, in the cold sector (Benelux, North Sea, E British Isles) where a steep lapse rates develops.

DISCUSSION

...corridor extending from N Italy to Baltic Countries...

Severe thunderstorms are possible along the frontal boundary, and ahead of it where a moisture convergence will jump mixing ratios to 12-13 g/kg an produce a CAPE up to 1500-2000 J/kg, locally 2500 J/kg. Thanks to strong forcing (well pronounced PVA) and a DLS around 15 m/s, convection will be transforming into multicell clusters capable of producing severe wind gusts and large hail up to 3-4cm. Few severe thunderstorms including supercells developing ahead of the frontal boundary and capable of producing local large hail and a severe wind gust are also possible. Due to very moist vertical profile (PW ~ 30-35mm) and moderate motion of the storms, an excessive precipitation and a local flash flooding is possible, especially over Poland where storms will be building-up and moving almost parallel to the boundary. A local overlap of 2000 J/kg CAPE, 20 m/s DLS and some SRH (100-200 m2/s2) over N Italy, may result in a few very large hail reports within 1 or 2 isolated supercells developing in the afternoon hours.

... E and SE Europe...

Thanks to the strong diurnal heating supporting evapotranspiration and warming of the boundary layer, a widespread CAPE up to 1000-2000 J/kg and locally 2500 J/kg will develop in the afternoon hours, and thus produce thermal thunderstorms within convergence boundaries. In a marginally or almost non-existent vertical wind shear, a stationary or slowly moving pulse thunderstorms transforming into multicell clusters will create a threat of excessive precipitation. A local downburst/microburst wind events thanks to favourable vertical delta theta-e values are also involved. NWP models are the most consistent in CI over SE Europe area, therefore lvl. 1 indicating an elevated probability for severe weather with above mentioned phenomena was issued. In addition, this area is also covered with a steep lapse rates (> 7 K/km), that increases chances for a few large hail reports.

...NW Europe...

A steepening lapse rates observed behind the cold front, together with 7-8 g/kg mixing ratios develop a few hundredths J/kg 31of CAPE. Within diurnal heating and a few PVA lobes, a scattered thunderstorms with ELs cold enough to produce lightning, may develop in the afternoon hours and move eastwardly.