Storm Forecast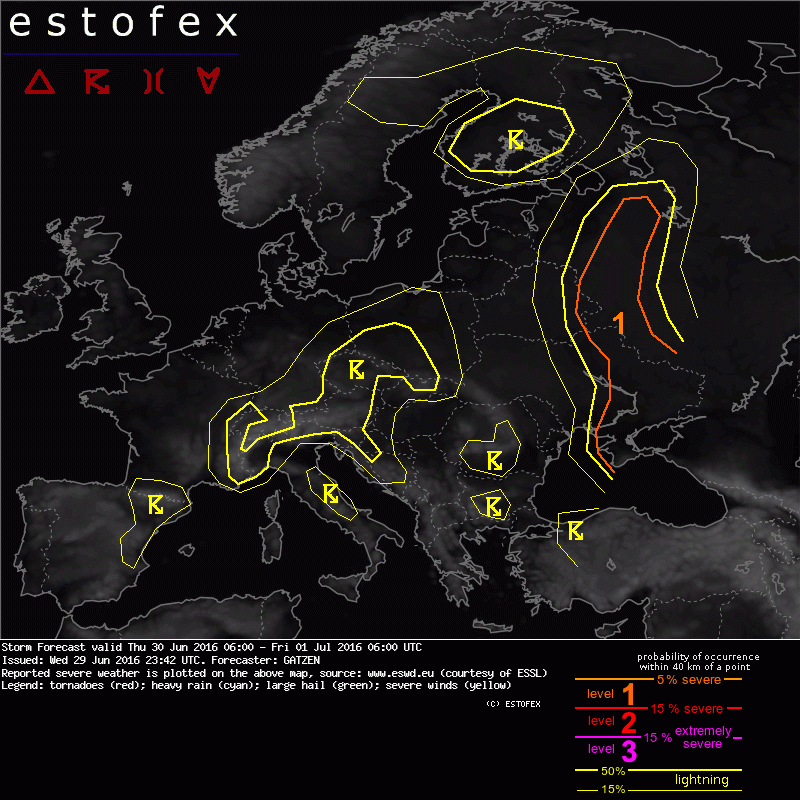 Storm Forecast
Valid: Thu 30 Jun 2016 06:00 to Fri 01 Jul 2016 06:00 UTC
Issued: Wed 29 Jun 2016 23:42
Forecaster: GATZEN
A level 1 was issued for Western Russia into the central Ukraine mainly for excessive rain.

SYNOPSIS

A long-wave trough is placed over north-western Europe and will not move during the period. A strong mid-level south-westerly flow affects most of central Europe at the eastern flank of this trough. Embedded in the flow, a short-wave trough lifts with its axis from the North Sea towards northern Italy on Thursday morning, spreading to northern Scandinavia on Friday morning. Ahead and in the wake of this trough further vort-maxima travel across the United Kingdom, the North Sea region, and Scandinavia. Ridging takes place over eastern Europe. At lower levels, a well-developed frontal boundary extents from the Bay of Biscay to the Alps and further into the Baltic States. Warm air advection will spread into Scandinavia ahead of the short-wave trough.

DISCUSSION

Central Europe

A lifting short-wave trough moves from south-eastern Germany across Poland into the Baltic States during the day. It will provide differential cyclonic vorticity advection. At lower levels, a frontal wave passes over the same region, providing warm air advection. Affected air mass is moist and indicates also relatively steep low-level lapse rates in latest soundings over eastern Germany. Mid levels are still pretty warm but are expected to cool in response to quasi-geostrophic lift during the morning hours.

Showers and thunderstorms are forecast that spread from the Alps towards eastern Germany in the morning hours and into the Czech Republic and Poland in the afternoon. Further storms are expected to develop along the slopes of the Alps and Tatra mountains along the frontal boundary left behind the short-wave trough, where rich low-level moisture will overlap with steeper lapse rates and upslope flow.

Vertical wind shear will be strongest in the warm air advection regime that moves into Poland during the day, where 0-3 km bulk shear of 15 m/s can overlap with some CAPE. Rather weak low-level lapse rates may limit severe potential there, though. Main threat will be some gusts in the case of storm clusters. Increasing low-level moisture is expected in the evening hours along the frontal boundary, and curved low-level hodographs could be favourable for brief supercells. With locally stronger insolation a tornado is not ruled out with isolated supercells. Overall threat is rather low, though.

In the wake of the frontal wave, weak cold air advection affects southern Germany at low levels. However, diurnally driven upslope winds could overcome this as CIN will be weak as well. Rich moisture and some steeper lapse rates originating from the Alps may briefly overlap. A few storms may therefore form along the northern slopes of the Alps. Weakening south-westerly mid-level flow will not allow for well-organized storms, however, local spots of better shear are indicated by latest models and some large hail cannot be ruled out with the stronger storms.

Along the slopes of the western, southern, and eastern Alps, as well as the Tatra mountains, diurnally driven storms are forecast as well, given rich low-level moisture and steep low-level lapse rates. Vertical wind shear is weak and only a few severe storms are forecast, capable of producing some large hail. The chance of excessive rain is enhanced over a large region given the rich low-level moisture. A level 1 was not issued as not region could be highlighted.

Central Italy into Balkans

The southern portion of the European short-wave trough cuts off and slowly moves into the Balkans. Storms are forecast over the Apennines and Dinaric mountains. Weak vertical wind shear will limit severe potential. The slow storm motion increases the chance of excessive rain, though.

Finland

Ahead of the approaching trough, increasing warm air advection will affect Finland. A frontal boundary is expected to enter the region from the south during the day, associated with rich low-level moisture. Weakly capped CAPE can form, overlapping with about 8 m/s bulk shear in the lowest km. If isolated cells can form in the afternoon and evening, a tornado is not ruled out. There may be also some hail but severe hail is not expected.

Western Russia into central Ukraine

Along a convergence zone, very moist air masses are present that become unstable below a mid-level trough during the day. Weak shear limits potential for storm organization, but excessive rain is possible due to slow moving storms.

Pyrenees and eastern Spain

Diurnally driven storms are not excluded over the mountains, where the cap could be overcome. GFS indicates 15 m/s 0-3 km bulk shear, so that some multicells are not ruled out. However, weak CAPE will reduce risk of severe storms so that a level 1 is not issued.