Storm Forecast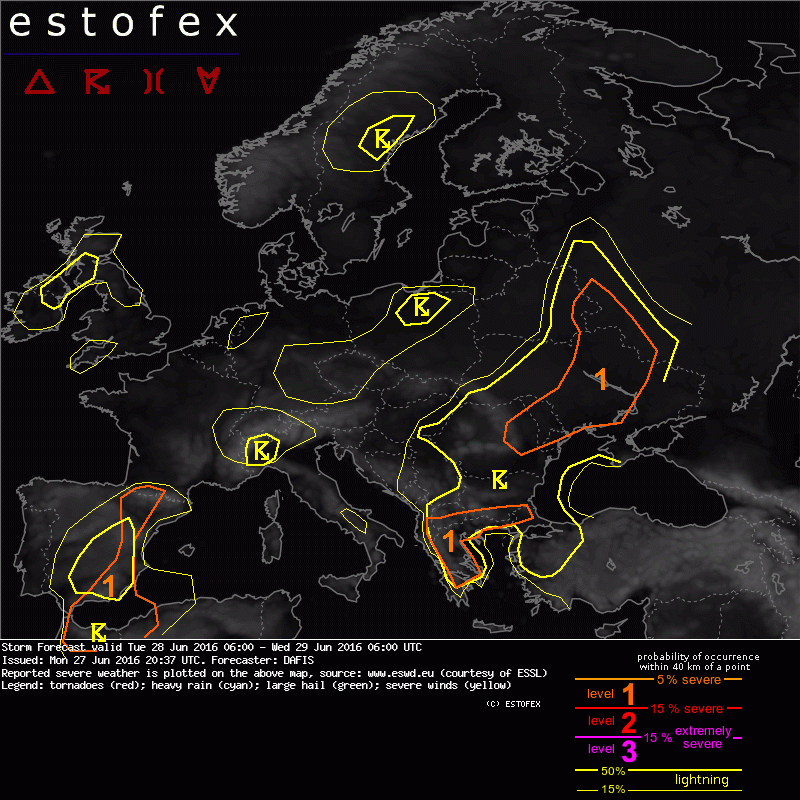 Storm Forecast
Valid: Tue 28 Jun 2016 06:00 to Wed 29 Jun 2016 06:00 UTC
Issued: Mon 27 Jun 2016 20:37
Forecaster: DAFIS
A level 1 was issued for W Russia, E Belarus, Ukraine, Romania and Moldova mainly for excessive rainfall, severe wind gusts and isolated large hail.

A level 1 was issued for parts of FYROM, Albania, Greece, Bulgaria and NW Turkey mainly for large hail, severe wind gusts and to a lesser extend excessive rainfall.

A level 1 was issued for parts of Spain, Morocco and Algeria mainly for large hail and severe wind gusts.

SYNOPSIS

A negative tilted longwave trough is crossing a large part of Central and East Europe, resulting in widespread thunderstorm activity mostly at the eastern parts. At the same time, a ridge is forming in West Russia and a weak meso-low is found in South Spain where we also expect some thunderstorms, perhaps producing severe weather. On the surface, a stalled cold front is visible on the maps, extending from Baltic States towards North Balkans. Moreover, two more LL vortices can be found in South Spain and SW from British Isles with their fronts affecting continental parts, by producing both convective and non-convective rain bands (a local flash flood in SW UK is possible). Low level convergence zones overlap with moderate mid-level lapse rates, especially in NW Italy and some severe weather events cannot be ruled out, even though their coverage does not verify a level 1 area.

DISCUSSION

.... W Russia, E Belarus, Ukraine, Romania and Moldova ....

A cold front extending from a low over Scandinavia extends southward into the Ukraine, curving back into the Balkans where it remains stationary. On the warm side of the front MLCAPE is predicted in the range of 1000-2000 J/kg. The LL convergence zone inside level 1 area suggests that the air masses will be supportive for long lived DMC as inflow parcels reveal high moisture content (e.g. BL average mixing ratio in excess of 15 g/kg). High PW values along with weak flow will result in slow storm motion and enhanced inflow from offshore areas may increase flash flood risk. Despite the absence of DLS, strong instability may also result in locally large hail. Thunderstorm activity will continue well during the night.

.... FYROM, Albania, Greece, Bulgaria and NW Turkey ....

Very steep lapse rates are forecast by the two main global models over this area and some decent values of MLCAPE will build up in the afternoon hours. Diabatic heating along with a PV streamer crossing FYROM and Greece in the afternoon will result in widespread CI with large hail and severe wind gusts being the main threats. The storm mode is questionable in N Greece, but storm clustering will boost significant rainfall risk and dangerous flash floods in Thrace and NW Turkey. For the rest parts of the level 1 area, BL is much drier and LCLs much higher, suggesting that evaporational cooling looks favorable for downbursts and isolated severe wind gusts. LLS and low LCLs over the sea may produce some waterspouts, even though the model guidance suggests some backing vertical wind profiles. Thunderstorms will gradually decay after sunset.

.... Spain, Algeria, Morocco ....

The presence of good DLS (15 - 25 m/s) and high CAPE suggests that every storm that will manage to overcome the low level cap, could become organized and produce severe weather events. WAA produces considerable amounts of CIN, but very moist-unstable air masses can be lifted at the local convergence zones, especially by the enhanced flow over steep orography. Sea breeze could also assist in CI. High PW values (30-35 mm) may lead in flash floods, but also large hail as the mid level lapse rates are forecast in the range 8-9 K/km and quite dry mid-level air masses assist strong updrafts/downdrafts through evaporation cooling. Storms will decay after sunset but may continue over the sea, where waterspout threat increases as LLS increases.