Storm Forecast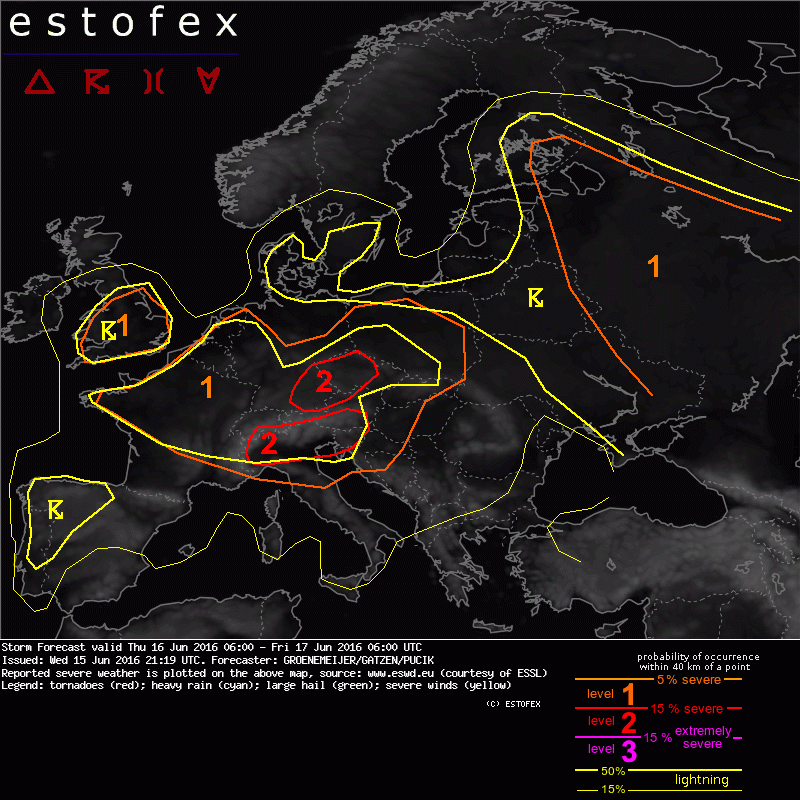 Storm Forecast
Valid: Thu 16 Jun 2016 06:00 to Fri 17 Jun 2016 06:00 UTC
Issued: Wed 15 Jun 2016 21:19
Forecaster: GROENEMEIJER/GATZEN/PUCIK
A level 2 was issued for much of the Alps and the northern and southern Alpine forelands, as well as the Po Valley for all risks, i.e. for large hail, severe winds gusts, very heavy rainfall and also for tornadoes.

A level 1 was issued for an area surrounding the level 2 area including much of the north European Plain, Czechia, Slovakia, the northwestern Pannonian plain, the Dinaric Alps and the Adriatic, the central Italian Peninsula. For these regions, the area was issued for the same risks as the level 2 area.

A level 1 was also issued for north and central France, much of the Benelux countries and much of Germany. The main risk across these areas is localized heavy rainfall.

A level 1 was issued across much of England and Wales for localized very heavy rainfall.

SYNOPSIS...

An unseasonably strong southwest flow is present between an amplified longwave trough over Iberia and a ridge over the Balkans. A shortwave trough embedded within the flow is forecast to approach the Alps during the day. Large-scale upward motion should affect the level 2 area, which should lead to slightly steeping lapse rates, exceptionally strong deep-layer shear, and storm initiation in a number of regions. Strong surface cyclogenesis is expected to occur during the latter half of the period across SE Germany and later the Czech Republic and the German/Polish border region.


Southern Alps and northwest Balkans...

Moderate low-level moisture is expected across the Po-Valley with surface dewpoints around 16-17 C. NWP guidance produces convective preciptation across the region before 12 UTC, especially along the Alpine slopes. The intense upslope flow is expected to produce very high precipitation amounts, most likely in the Swiss-Italian border region and further east across NE Italy and western Slovenia.

Mixed-layer CAPE is rather modest with typical values in clear regions of around 1000 J/kg and almost not capped. The rather modest moisture and CAPE can be considered the primary limiting factor to the severe weather risk. Deep-layer (0-6 km bulk) shear is exceptionally strong, around 40 m/s. Variability among models in the low-hodographs is quite large, but areas of strong hodograph curvature are modelled in NWP models across northern Piemonte, Lumbardy, Veneto, Friuli, western Slovenia and western Croatia. In such areas 0-3 km helicity occasionally exceeds 400 m2/s2.

As a result of the outstanding deep-layer shear, developing storms will likely rapidly turn into supercells with large hail and severe winds. A few strong tornadoes may also be expected. Any supercells that form may - sustained by the strong shear - survive the challenging topography of the higher mountains. Further southeast across Croatia, the risk decreases as CIN increases and storm coverage becomes questionable.

Rainfall risk is an issue in Friuli and western Slovenia, and across the Italian-Swiss border region in northwest Italy, where the combination of persistent upslope flow and unstable air will likely lead to excessive rainfall with an important risk of flash floods.


Southeast Austria, far west Hungary, central and east Slovenia...

Rather high uncertainty exists in eastern Slovenia and southeast Austria where low-level humidity CAPE and CIN vary rather strongly from one NWP model to the next. Hence, convective initiation in the region is uncertain. If storms form, fair to excellent conditions for organized storms are present with strong deep-layer shear and considerable storm-relative helicity. Any storm in the area may become supercellular with all severe threats.

Southeast Germany, Czech Republic, north Austria...

Across southeast Germany, northerly upslope and convergent low-level flow is expected to develop near the developing surface low. Within this region, humidity should increase during the day. In combination with heating, CAPE of 1000 to 1500 J/kg are expected to form in a rather small area.
Model consensus predicts convective precipitation during the late afternoon. Very high 35-40 m/s deep-layer shear and strong storm-relative helicity of 300-400 m/s suggest one or two supercells will develop. These should rapidly move eastnortheastward and bear a risk of severe wind gusts, large hail, heavy rain, and tornadoes. Additional cells may develop over the Czech Republic. The risk will shift northeastward during the evening, before reducing considerably overnight, as the convection becomes elevated.

Poland, Slovakia...

A few storms may develop in an environement of rather weak CAPE. However, given that deep-layer shear will increase strongly from the southwest during the afternoon, some storms may turn into supercells with a risk of large hail and a more limited risk of severe winds and heavy rain.

Benelux, western Germany, France, and Britain...

Weak shear and weak flow, and rather low CAPE, but moist vertical profiles suggest that a risk of localized heavy rainfall will exist as diurnal convection develops. An isolated non-mesocyclonic tornado cannot be ruled out.

Russia, northeast Ukraine, east Belarus, southeast Finland,

Across this area, weak shear and flow and moderate CAPE of 1000-1500 J/kg are predicted. The moist vertical profiles suggest a risk of localized heavy rainfall as well in this area.