Storm Forecast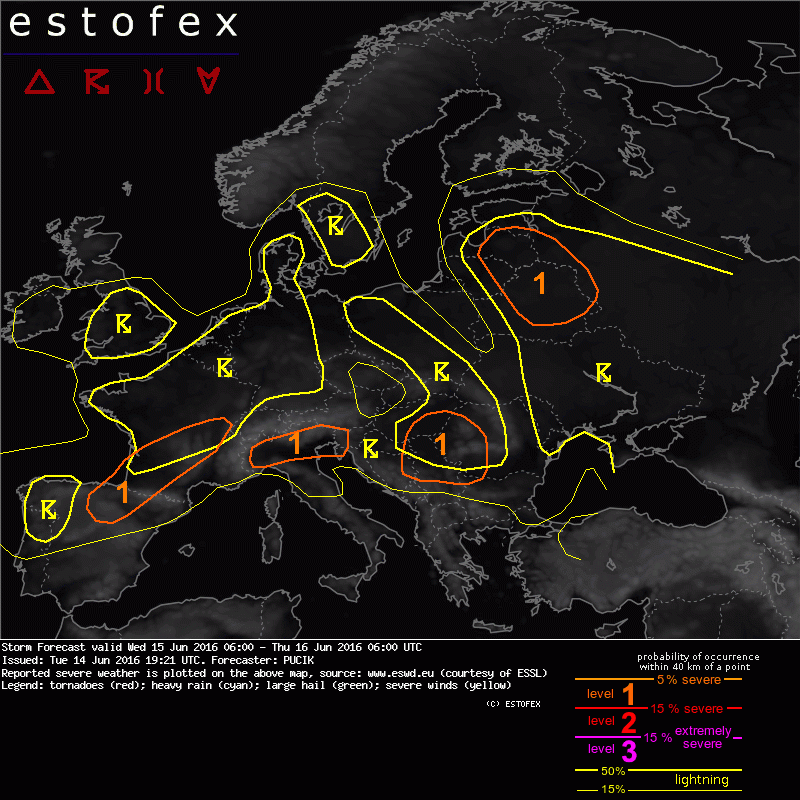 Storm Forecast
Valid: Wed 15 Jun 2016 06:00 to Thu 16 Jun 2016 06:00 UTC
Issued: Tue 14 Jun 2016 19:21
Forecaster: PUCIK
A level 1 was issued for parts of N Spain and S France mainly for marginally large hail.

A level 1 was issued for N Italy mainly for large hail and severe wind gusts.

A level 1 was issued for SE Hungary, W Romania and N Serbia mainly for large hail and severe wind gusts.

A level 1 was issued for Belarus and parts of the Baltic states mainly for excessive precipitation and to the lesser degree for large hail.

SYNOPSIS

At mid to upper troposphere, a large cyclonic vortex centered over France and Great Britain will start amplifying southwards, with its trough crossing Spain during the forecast period. In response to the resultant strong WAA from Sahara northward, a ridge will amplify over the central Mediterranean. In between of these features, a strong southwesterly to westerly flow up to 40 m/s is simulated in a large belt from Spain through N Italy towards Balkans. A plume of EML will be advected from Sahara towards central Italy during this period. North of the ridge, a short-wave will cross parts of central and SE Europe towards N and NE. At the same time further to the east, a shallow trough will reside over much of E Europe, slowly retreating as ridge lifts towards Central Europe.

A large fraction of continental Europe will experience at least isolated thunderstorms during this day, with several areas requiring closer inspection with enhanced probabilities of severe weather.

DISCUSSION

... N Spain towards S France ...

Approach of the trough will be associated with strong southwesterly mid-tropospheric flow and DLS values generally above 20 m/s. Models simulate relatively weak CAPE over Spain, where shear is stronger, while higher CAPE is simulated over S France, where weaker shear is simulated (15 - 20 m/s, increasing in the evening). The overall threat will not be very high, but a few severe storms capable of large hail will be possible in this scenario.

... N Italy ...

Marginal to low-end CAPE (several hundreds J/kg) of MLCAPE is simulated by models as steep lapse rates are lacking over the region. On the other hand, DLS around 30 m/s is forecast with enhanced SRH values especially over NE Italy, where easterly component of surface winds contributes to curved hodograph. As the short-wave has already passed the region overnight, large-scale forcing will be lacking and initiation will depend on the position of the local convergence zones. Two most likely areas of initiation will be NE part of the area south of the Alpine range and the N Adriatics coastline. Storms will likely struggle in low CAPE - high shear situation. If they can persist, they may attain supercell form with threats of large hail and severe wind gust. A conditional Lvl 1 is issued for the area.

... SE Hungary, W Romania, N Serbia ...

IPV values suggest a short-wave will pass the region in 09 - 15 UTC time frame, followed immediately by the stregthening of the mid-tropospheric flow and an increase of DLS to 15 - 25 m/s. These values are conducive to well-organised convection, including supercells. Again, mostly low CAPE values are simulated by models, very unlikely exceeding 1000 J/kg. Another negative factor of the situation is that increase in DLS will happen behind the short-wave, in conjuction with amplifying ridge from the south. In the forecast soundings, one can find an evidence of mid-tropospheric subsidence spreading over the area from the south in the afternoon hours. Nevertheless, a window will exist for development of stronger storms capable of large hail and/or severe wind gusts.

... Belarus to the Baltic states ...

In the SE-ly flow on the flank of the shallow surface low, moist airmass will be advected over the region. Slow moving storms organised to multicells in 10 to 15 m/s of DLS will pose a threat of excessive rainfall. Stronger cells may also be capable of large hail, especially over the southern part of Lvl 1, where MLCAPE values may exceed 1000 J/kg.