Storm Forecast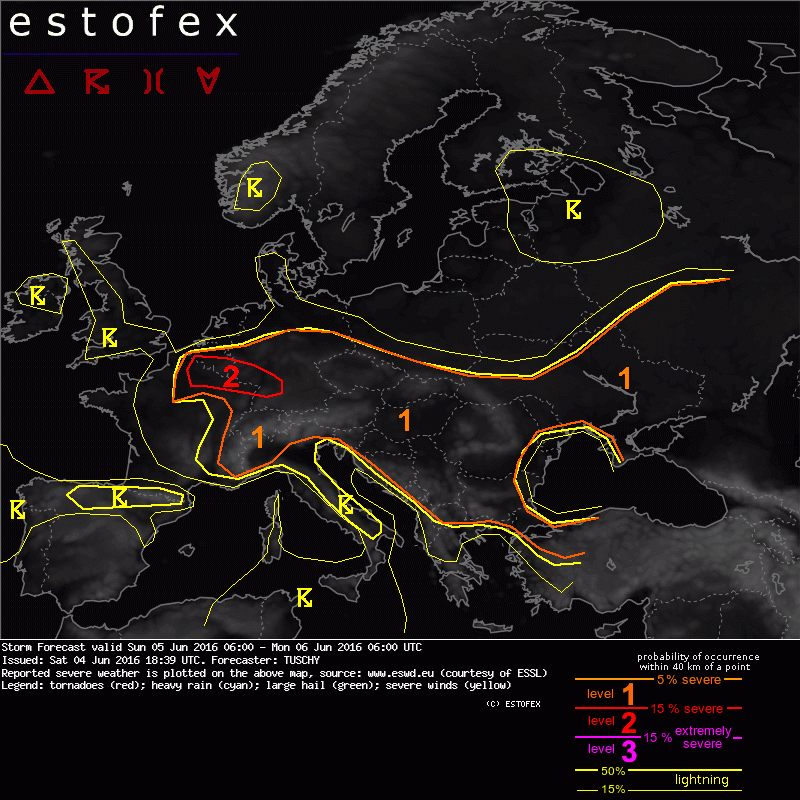 Storm Forecast
Valid: Sun 05 Jun 2016 06:00 to Mon 06 Jun 2016 06:00 UTC
Issued: Sat 04 Jun 2016 18:39
Forecaster: TUSCHY
A level 2 was issued for W-Germany, NE-France, S-Belgium and Luxembourg mainly for isolated large hail, severe wind gusts and heavy/excessive rain.

A level 1 surrounds the level 2 and covers most parts of SE and parts of CNTRL-/E-Europe mainly for isolated excessive rainfall amounts and isolated large hail/severe wind gusts.

SYNOPSIS

Omega block continues over CNTRL-/N-Europe. Deepening trough along its eastern fringe pushes an active cold front to the E/SE, which is one focal point for CI during the forecast period from S-Poland to far SW-Russia. The omega's ridge still features low/weak mid-level geopotential heights/height gradients with rather cool temperatures at 500 hPa. Hence, another day with widespread thunderstorm activity is anticipated. Active southern branch of the subtropical jet forces numerous mid-level waves over S-Italy to the east. Interaction with meager low-/mid-tropospheric moisture keeps thunderstorm probabilities on the low-end side.


DISCUSSION

... NE France, Belgium, Luxembourg and W-Germany ...

There's not much change regarding anticipated ingredients. Deep layer flow remains weak to non-existent ... despite 10-20 kt 1-8 km easterly flow over Luxembourg and Belgium. Decaying mid-level vortex induces a weak mark at the surface with divergent model signals regarding a closed BL circulation or a pronounced E-W aligned surface trough. Emitting dry/stable air from a 1025 (plus) hPa high over the N-Sea converges with cyclonic flow of the aforementioned surface feature and creates a diffuse E-W aligned convergence zone from NE France to W-Germany.

BL mixing ratios increase to 9-12 g/kg beneath modest mid-level lapse rates. Forecast soundings in this region show MLCAPE of 1.5 kJ/kg and locally higher MUCAPE peaks. Air mass is weakly capped and either orography or deep convergent flow induce scattered to widespread DMC activity. Given amount of CAPE build-up and marginally enhanced deep-layer flow, well organized and slow moving multicells are forecast with confined swaths of heavy/excessive rain. Large hail is possible during CI given a dry 4-6 km layer. Also, well mixed and dry low-tropospheric profiles in forecast soundings indicate a chance for both, isolated strong / severe downbursts and strong cold pools. The latter one would support a gradual upscale growth of DMC activity into numerous leisurely westward propagating smaller-scale thunderstorm clusters. Strong wind gusts along the leading edge and excessive rain will be the dominant risk.
Given expected high coverage of reports including the chance of a few very heavy rainfall events, a confined level 2 area was added.

Surrounding the level 2, pulsating convection with numerous more intense updrafts once again result in a few heavy/extreme rainfall events on a very localized scale.

... E/SE-Europe ...

Further SE - all the way to Hungary and Serbia - MLCAPE of 1-1.5 kJ/kg once again supports intense pulsating updrafts with heavy/excessive rain. Despite deep overturning over the past few days, somewhat cooling mid-levels result in steepening mid-level lapse rates and in aforementioned CAPE magnitude. Deep moist profiles with such an amount of CAPE support lots of small hail, which may locally increase the flood risk (e.g. due to jammed runoff). Less effective PWATs compared to the level 2 region kept the probabilities below a level 2 threshold from the Alps to Serbia. Over N-Italy and from Bulgaria to Romania, only marginal level-1 conditions are forecast.

Further north over S-Poland to the NW Ukraine, a southbound moving cold front interacts with the moist and very unstable air mass (MLCAPE in excess of 1 kJ/kg). DLS of 10-15 m/s supports a few well organized multicells with isolated large hail and strong to isolated severe wind gusts. This region was added to the broad level 1. The level area was expanded all the way to far SW Russia.

Overall, thunderstorm probabilities decrease during the night with loss of diurnal heating and a more stable nocturnal BL. Models show longbreathed MUCAPE plume over the level 1/2 areas, so despite a weakening trend of storms, at least isolated CI may continue all night long (especially over NE France/Belgium and SE-Europe). Nothing severe is forecast during the late night.

... Rest of the lightning areas ...

Either weak shear or modest CAPE or both preclude organized DMC. The activity is mainly diurnal driven.