Storm Forecast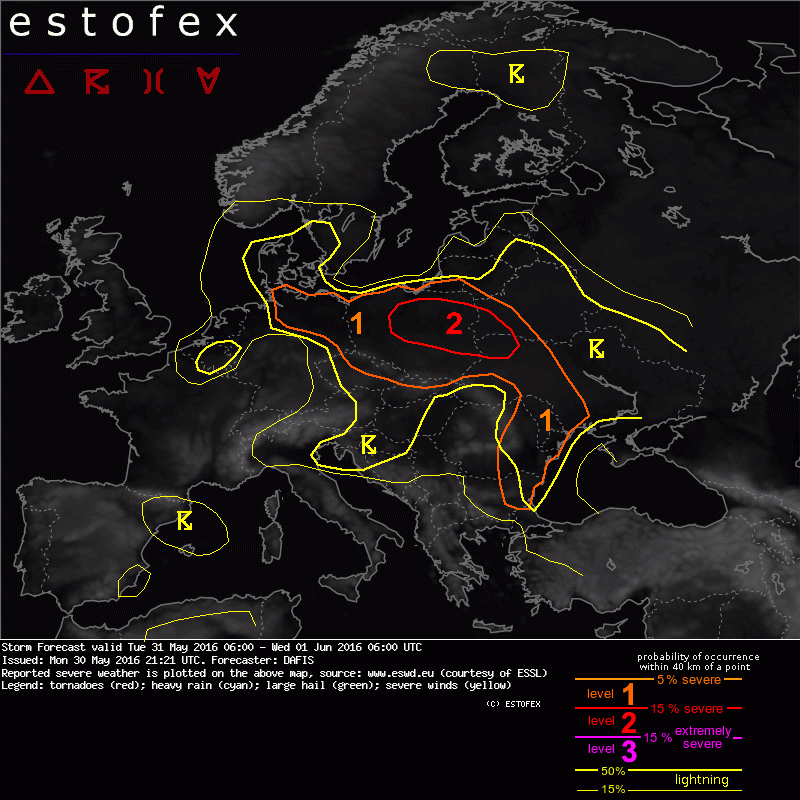 Storm Forecast
Valid: Tue 31 May 2016 06:00 to Wed 01 Jun 2016 06:00 UTC
Issued: Mon 30 May 2016 21:21
Forecaster: DAFIS
A level 2 was issued for Poland, Belarus and Ukraine mainly for the excessive precipitation. A tornado event cannot be excluded.

A level 1 was issued for Germany, Czech Rebublic, Poland, Slovakia, Belarus, Ukraine, Moldova, E Romania and E Bulgaria, mainly for excessive precipitation, severe wind gusts and large hail.

SYNOPSIS

A broad low pressure system is situated in western Europe and low tropospheric WAA is ongoing in east and northern parts of the continent. A plume of warm and very moist air mass will travel from Ukraine towards Germany by the end of this outlook and a low level convergence zone, mainly over Poland, will lead into a significant flood risk. At the other areas of interest, a rather weak shortwave trough will cross N Italy during Tuesday, where there will be enough lift for CI even above the waters of Adriatci Sea, but the lack of DLS/CAPE overlap excludes the area for any significant threat, apart from an isolated large hail event or a tornado/waterspout event. Cold air advection from UK to NW Mediterranean Sea will suppress convection but low topped cells may produce some lightings in SW France, not verifying 15% lightning probability. Elevated convection will feed storms also during the night.


DISCUSSION

.... Level 2 area ....

Latest model guidance and regional models in fine mode forecast a strong low level convergence zone extending from far NW Ukraine, into Belarus and Poland. GFS PW values reach 40 mm and SBCAPE near 2000 J/kg that pose a significant threat for flash floods. According to GFS and ECMWF, DLS remains weak, below 10 m/s, but in the level 2 area, a mid level jet streak is proposed by high resolution models and 0-3km bulk skear up to 15 m/s, so a well organized MCS is expected to be formed in the afternoon near the borders of the aforementioned countries, travelling W-NW producing excessive rainfall and hail up to 2 cm in diameter. Moreover, after 15z we can notice an increase of the LLS over N Poland and Belarus where LCL heights will be below 800m. A tornado event cannot be excluded.

.... Level 1 area ....

A level 1 surrounds the level 2 area, for the same threats in the northern parts but also for large hail and severe wind gusts in the eastern parts of the Balkans. Global models forecast an overlap of 15-20 m/s DLS with up to 1500 J/kg MLCAPE, where PW is not expected to exceed 20 mm and LCL heights near 1500 m. Furthermore, a vorticity lobe will cross the upper level parts of the unstable air masses, an ancillary mechanism for CI and any cell that will form into this environment will be capable of large hail and severe wind gusts.