Storm Forecast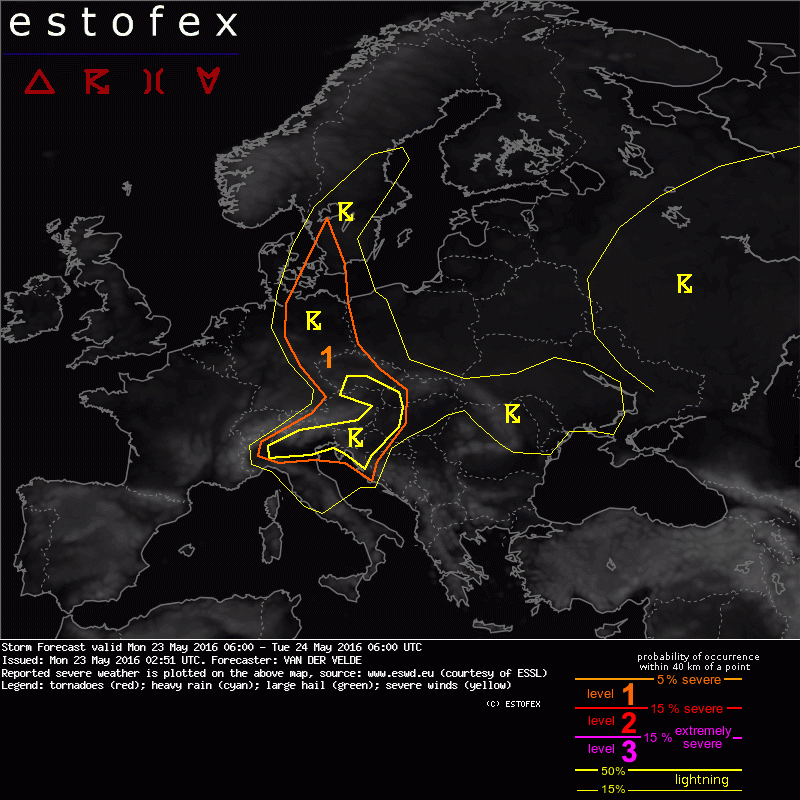 Storm Forecast
Valid: Mon 23 May 2016 06:00 to Tue 24 May 2016 06:00 UTC
Issued: Mon 23 May 2016 02:51
Forecaster: VAN DER VELDE
A level 1 was issued for central/NE Germany, Austria, Czech Republic, N Italy and NW Balkan mainly for isolated excessive convective precipitation and isolated large hail.

SYNOPSIS and DISCUSSION

A vigorous mid/upper level trough stretches from Scandinavia to the central Mediterranean area, with an intense low pressure system and potential vorticity lobe south of the Alps. On the east side of this trough warm air is transported northward while mid level lapse rates are destabilized by ascending air motion, which is most dramatic near the Alps.

Over Czech Republic, eastern Germany into Denmark and Sweden a stationary front can trigger convection with up to 500 J/kg realistic MUCAPE in most places, isolated patches with higher values. The front marks a boundary with nearly saturated low level air over Germany without CAPE. Despite moderate deep layer shear (15-20 m/s 0-6 km vectors), storms which would initiate along this boundary and track more or less NNW-ward parallel to it may spoil the environment for subsequent developments. It can also lead to training of cells with chances of enhanced precipitation sums. The different models suggest different focus areas for storms. GFS 18Z places them more into the northeast of Germany near a low pressure center, while 12Z based WRF models favor areas closer to Czech Republic, where also updraft helicity is displayed (4 km WRF) suggestive of hail chances.

Slight chances of large hail are present, with spots in GFS around Austria and NW Balkan of 250 mē/sē SREH which can induce updraft rotation. Favorable conditions also for N taly mainly before the afternoon. The limiting factor is the low expected MLCAPE of just a few hundred J/kg.