Storm Forecast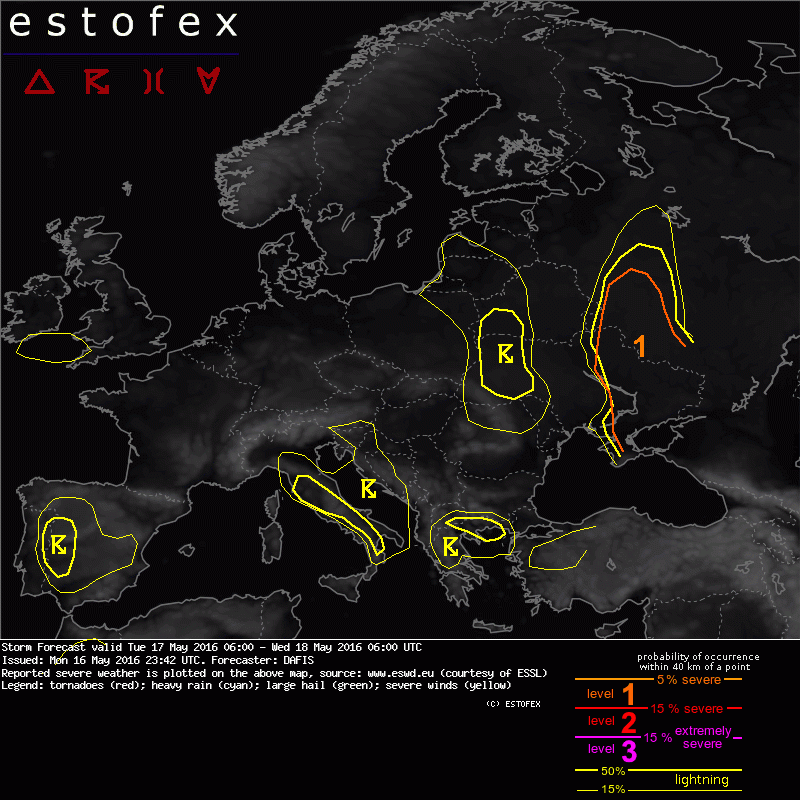 Storm Forecast
Valid: Tue 17 May 2016 06:00 to Wed 18 May 2016 06:00 UTC
Issued: Mon 16 May 2016 23:42
Forecaster: DAFIS
A level 1 was issued for Ukraine and SW Russia mainly for excessive precipitation, severe wind gusts and to a lesser extent for isolated large hail and tornadoes.

SYNOPSIS

A longwave trough extends from Scandinavia to central Mediterranean with a vorticity maxima over the Baltic States. A weak vorticity lobe will cross the eastern parts of Europe, Ukraine and SW Russia where the main convective activity will take place during Tuesday. Spain and Portugal will be under the influence of a shortwave trough and models forecast a weak vorticity advection over the area, but steep lapse rates and the rather moist BL suggest the development of enough instability to verify a 50% probability of lightning activity. In West Italy, during the early morning hours of Tuesday, we can notice a line of convective activity under small trough with a jet streak over the sea, imposing a threat for an isolated event of large hail, up to 2cm, but the spatial coverage cannot verify a level 1. On the surface, a cold front crosses NE Greece and NW Turkey with a round of thunderstorm activity mostly near the coasts of the Black Sea along the convergence zone. During the night and the early morning hours of Wednesday, a shortwave trough approaches Ireland and the UK and some instability is expected, inside the vigorous wind field.


DISCUSSION

.... Ukraine, Russia ....

Latest model guidance suggest the development of MLCAPE up to 1800 J/kg during the evening hours of Tuesday. DLS is weak but values of CAPE that can probably reach 2000 J/kg could support the formation of large hail. Even though PW values are high, more than 30 mm and LCLs low, at the latest soundings we can notice a layer of dry air near 600 hPa, instigating strong downdrafts with a chance of severe wind gusts and/or large hail. Slowly moving storm cells also pose a threat for excessive rain events, since the mid level flow seems rather weak (5-10 m/s). Finally, at the northern side of level 1 area, high resolution models forecast LLS up to 10 m/s, low LCL heights and SREH0-1km in the range of 150-200 mē/sē, so an isolated tornado event is not excluded.