Storm Forecast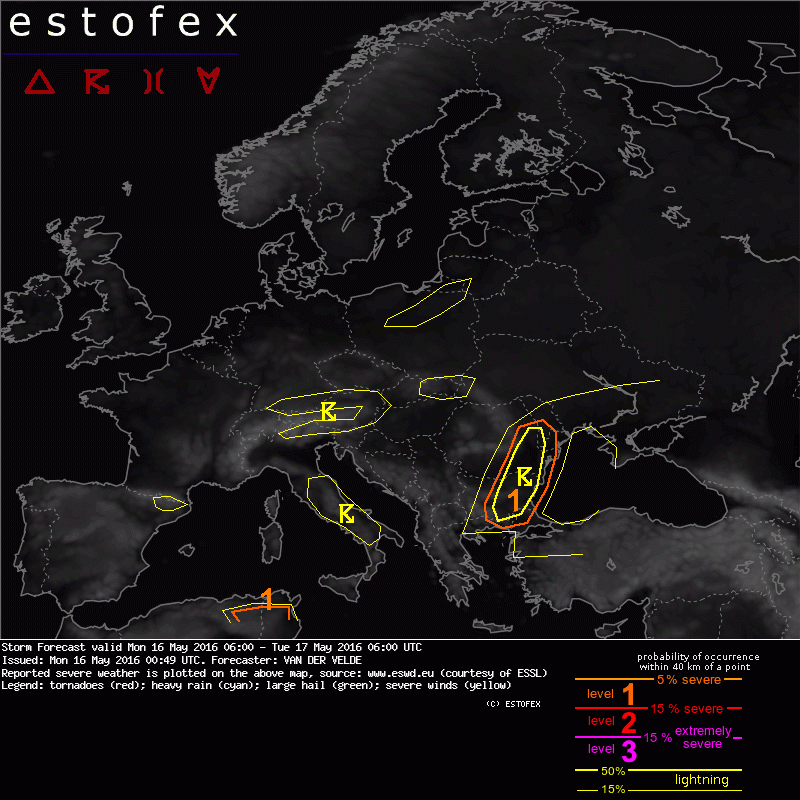 Storm Forecast
Valid: Mon 16 May 2016 06:00 to Tue 17 May 2016 06:00 UTC
Issued: Mon 16 May 2016 00:49
Forecaster: VAN DER VELDE
A level 1 was issued for E Romania and Bulgaria mainly for isolated large hail and exessive precipitation.
A level 1 was issued for NE Algeria and N Tunesia mainly for large hail and severe convective wind gusts.

SYNOPSIS / DISCUSSION

Surface low pressure areas are present over the Baltic Sea and the eastern Black Sea, with an exxtension towards the eastern Balkan and Italy. In the mid levels central Europe lies under a broad trough spanning from Scandinavia to the Sahara. The Baltic low pushes a cool air mass eastward through central Europe with the cold front moving through Romania and Bulgaria where a few hundred J/kg MLCAPE can build up under somewhat enhanced shear conditions (DLS 15 m/s, SREH locally 200-300 m²/s²). This may help large hail chances. Over Bulgaria the storms would develop and move along a W-E convergence zone which can cause training of cells over some locations with some chance of excessive precipitation.
In the cool air mass, lapse rates are steep but relatively dry low levels yield only very slight MLCAPE values with convective tops nevertheless reaching -20°C levels between Italy and Lithuania and some thunder is therefore possible. A shortwave trough passes the Alps with some slight potential for triggering convection.
Some chances for severe storms are present over NE Algeria/Tunesia where some CAPE joins 15-20 m/s DLS and cloud bases at 2000m, while a shortwave trough passes in the late morning (UTC). Cells may develop rotation, and large hail/severe gusts..