Storm Forecast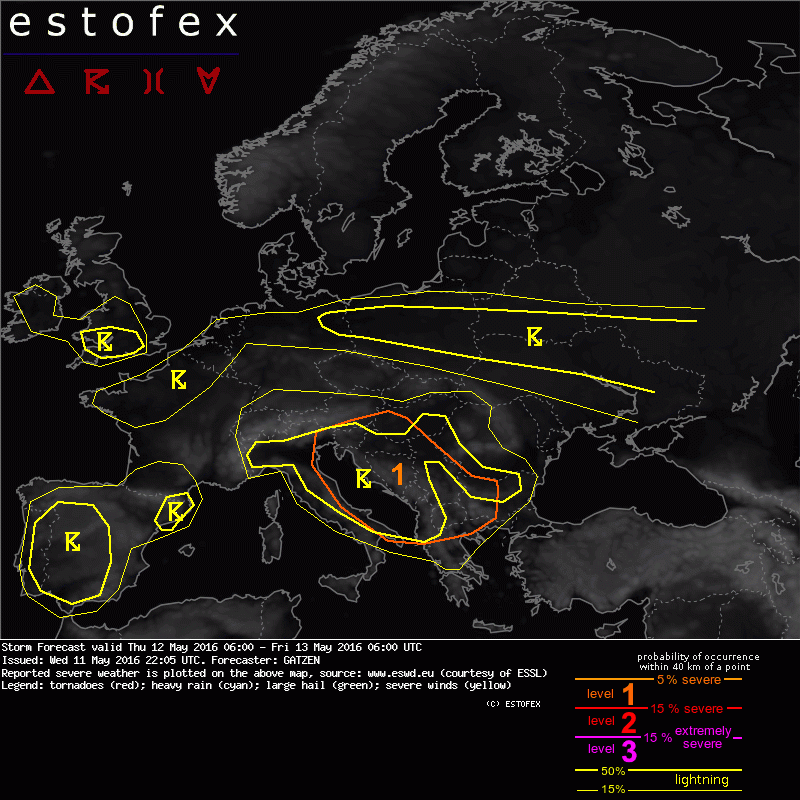 Storm Forecast
Valid: Thu 12 May 2016 06:00 to Fri 13 May 2016 06:00 UTC
Issued: Wed 11 May 2016 22:05
Forecaster: GATZEN
A level 1 was issued for northern and central Italy, the Adriatic Sea, the Balkans, northern Greece and western Bulgaria mainly for large hail.

SYNOPSIS

A deep intense trough is centred west of Iberia. At its south-eastern flank, a very strong mid-level jet streak is pushed east over the Mediterranean. This is associated with height falls from southern France across the Alps and surroundings into the northern Balkans and east central Europe. East of the Alps, a new trough centre forms, and the former trough center west of Iberia moves east and crosses the Iberian Peninsula late in the period. At the southern flank of this fort-max, another jet streak follows the first across the western and central Mediterranean late in the period.

At lower levels, unseasonable cool and dry air spreads into the west and central Mediterranean through-out the period. A cold front will be located across the Italy region on Thursday morning and pushes moist low-level air and mid-level steep lapse rates to the Ionian Sea until noon. At the end of the period, the cold front will be placed across Greece and the Aegean region.

Further north, geopotential rise is expected over eastern Europe, whereas a ridge axis from the northern British Isles to the southern Baltic Sea weakens due to an outbreak of polar air masses from Iceland into the North Sea region. The polar trough starts to merge with the Alpine low geopotential late in the period.

DISCUSSION

Italy, Aegean, Balkans region

In the wake of the cold front, diurnal heating of cool air masses results in steepening lapse rates. Low-level moisture will be around 10 g/kg and weak CAPE below 1000 J/kg is expected to develop. As the mid-level vort-max / jet streak approaches, large-scale situation becomes increasingly favourable for storms to form. Focus will be sea breeze convergences and regions with upslope flow. In a modest south-westerly flow, low- to mid-level vertical wind shear will increase especially due to the sea breeze, and about 15 m/s 0-3 km bulk shear are forecast. Stronger cells capable of producing large hail are the main threat. However, tornadoes are not ruled out as well with a focus on the central Aegean region, whrre 0-1 km bulk shear is expected to be strongest.

Further south, the cold front spreads into Greece and the Aegean Sea. Warm mid-level air masses will likely cap the low-level moist air. Behind the cold front, synoptic-scale forcing is rather weak as the main vort-max remains to the north-west. Isolated storms are not ruled out and may produce large hail given strong mid-level vertical wind shear.