Storm Forecast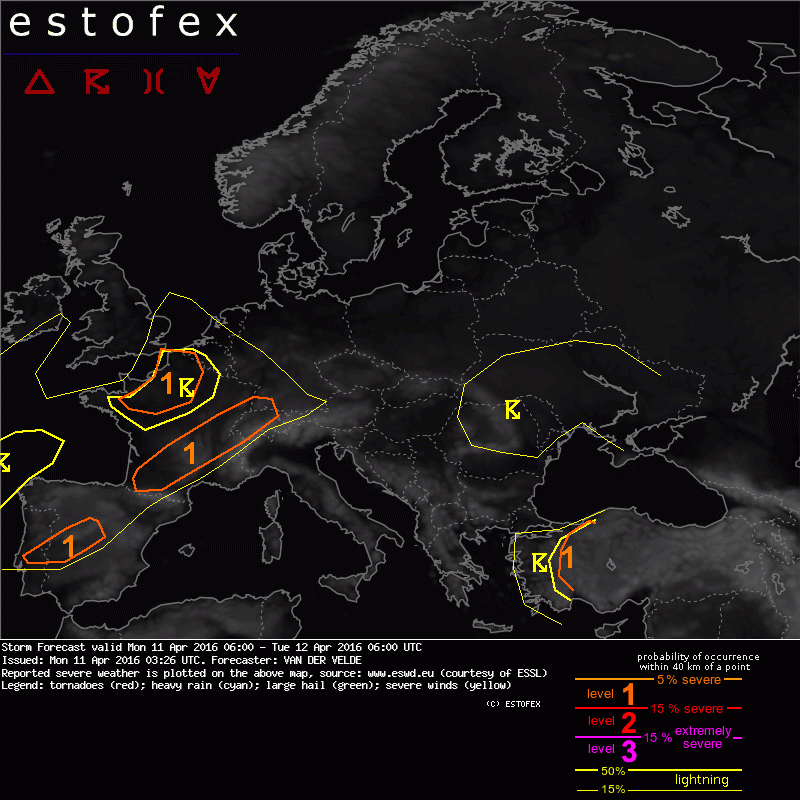 Storm Forecast
Valid: Mon 11 Apr 2016 06:00 to Tue 12 Apr 2016 06:00 UTC
Issued: Mon 11 Apr 2016 03:26
Forecaster: VAN DER VELDE
A level 1 was issued for parts of France, Portugal, Spain, Switzerland and SW Germany mainly for chances of large hal.

A level 1 was issued for N and C Turkey mainly for chances of large hal.

SYNOPSIS

A stationary but very active Atlantic low has brought an unstable airmass with steep lapse rates into France and the NW half of the Iberian Peninsula, now reaching also Switzerland, SW Germany and S Netherlands. The jetstream races over Portugal, central Spain to central France and Switzerland, with a branch bending back over the UK and NW France. This enhances the deep shear conditions in the CAPE overlap region. MLCAPE values are modest, generally just 100 J/kg and weakly capped, and maximized in NW France where it should stay under 400 J/kg. Two major shortwave troughs should pass through western Europe. The first one lies at 12Z near the N France border region. The second one comes out of Portugal at that time, and will reach N France twelve hours later. Other than these, lift will be messy, and no sharp fronts are present either, so convective developments likely are sequences of clusters or isolated cells. Other lows are present near Moldova and over Turkey.

DISCUSSION

...western Europe...

15-20 m/s DLS will be present near the CAPE max over NW France, this may enhance updrafts enough to increase hail size to more than 2 cm. Relatively warm air advects northward into France. WRF models produce storms over central France moving into Germany later. GFS produces more storms over Switzerland. Including the Portugal/Spain level 1 area (briefly), there is 25-40 m/s 0-6 km shear while SREH also passes locally the 200 mē/sē mark in GFS. Some storms may develop rotation. 0-1 km shear is on the weak side, which limits tornado potential. SW France will have the highest LCL which benefits updrafts and large hail chances, if a storm forms.

...Turkey...

Moderate DLS in the N of Turkey and good lifting east of the cut-off low combine with high LCL and decent MLCAPE. This situation can produce a number of storms with copious small hail or large hail.