Storm Forecast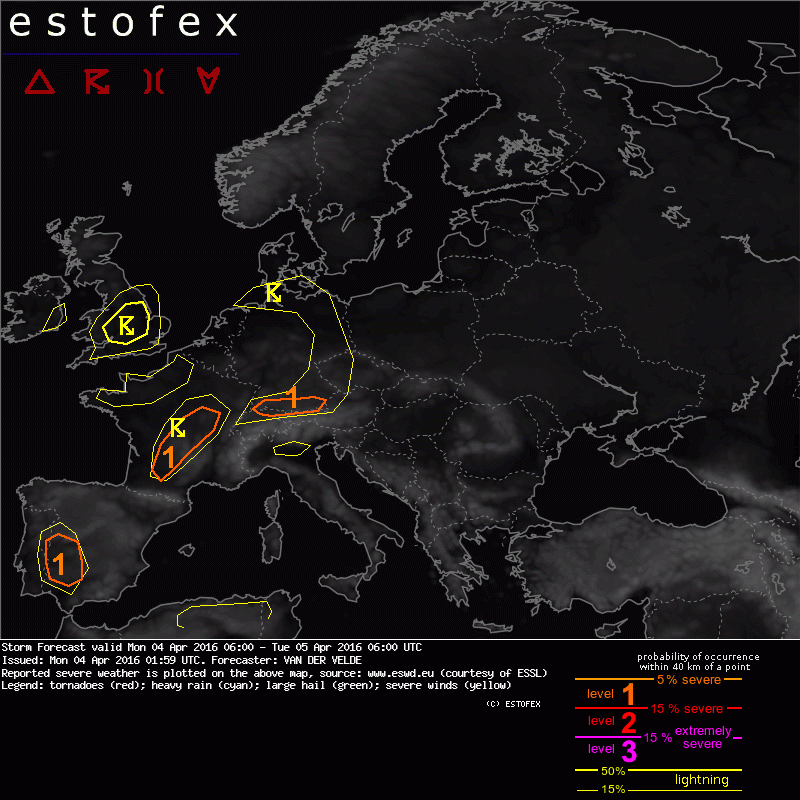 Storm Forecast
Valid: Mon 04 Apr 2016 06:00 to Tue 05 Apr 2016 06:00 UTC
Issued: Mon 04 Apr 2016 01:59
Forecaster: VAN DER VELDE
A level 1 was issued for central France mainly for chances of large hail and tornadoes.

A level 1 was issued for S Germany mainly for large hail.

A level 1 was issued for E Portugal and W Spain for chances of severe convective wind gusts and tornadoes.

SYNOPSIS

A large western European mid/upper level trough has started the first significant continental thunderstorm episode of the spring yesterday. Today its cold front is stalling over central France and moving northwards through Belgium, Netherlands and the UK while a warm sector advances over Germany and Denmark. Rising motion caused by the trough is found only along the cold front. This is also the case over the western Iberian Peninsula, where a sharp shortwave trough digs southward with strong rising motions along the cold front.
On the surface, low pressure centers will be located over Spain, UK, SW France, and anticyclonic flow over S Germany. A broad region with large deep layer shear over 20 m/s covers areas with slight MLCAPE discussed below.

DISCUSSION

....western Iberian Peninsula...

The shortwave trough is likely to trigger a low-topped linear convective system during the afternoon given the sharp PV trigger and large differential theta-e advection destabilizing the cold front, even though CAPE signals are marginal in GFS and the cloud tops not so cold. The mean 1-3 km winds indicate gust potential mainly below 20 m/s, but 0-1 km shear is over 10 m/s which supports bow echo and tornado chances.

...SW to C France...

MLCAPE is more marginal than the previous day, but advection of relatively moist air (6-7 g/kg) converges in the region with convection likely to develop. With strong DLS, SREH (250 mē/sē) and over 10 m/s 0-1 km shear, cell rotation is possible and large hail or an isolated tornado could result.

...S Germany...

Convective initiation is predicted by GFS but not by various WRF models. WInds from the north converge north of the Alps, which would be the trigger. The CAPE may be capped, but local initiation may occur. In that case the wind shear is supportive of updraft rotation (SREH 250 mē/sē) and large hail may be produced.

...W United Kingdom...

Weak storm motion and high vertical vorticity near the surface is possible which can lead to vortex stretching into updrafts as spouts or funnel clouds.