Storm Forecast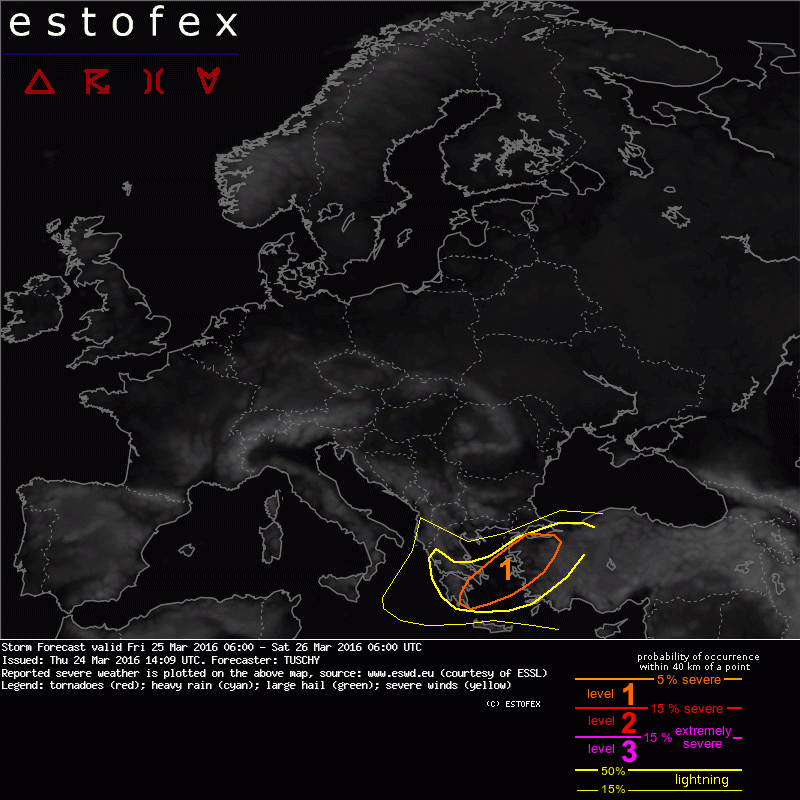 Storm Forecast
Valid: Fri 25 Mar 2016 06:00 to Sat 26 Mar 2016 06:00 UTC
Issued: Thu 24 Mar 2016 14:09
Forecaster: TUSCHY
A level 1 was issued for the S-Aegean Sea and far W-Turkey mainly for an isolated large hail event. This also includes far SE Greece.

SYNOPSIS and DISCUSSION

A rather benign weather pattern exists through the forecast. Numerous upper troughs cross Europe from W to E, but no significant change of intensification is forecast. In addition, no substantial wind speed maximum crosses the forecast area, which also highlights the calm pattern.

The main focus for a few organized storms evolves over the S/CNTRL Aegean Sea and surrounding areas. Soutbound dropping front slows down in the level 1 area as boundary awaits a vertically stacked vortex from the NW. The vortex will approach the NW Aegean Sea during the early afternoon hours with a constant motion to the SE. Hence the surface front will see a final push to the south (as a cold front) during the afternoon/evening hours . Thunderstorm probabilities will end from NW to SE during that time period.

Forecast soundings show thin/elongated CAPE profiles with 25-35 m/s DLS. Isolated large hail will be the main hazard. 25-30 kt near BL winds don't support an enhanced waterspout risk, but LLCAPE in excess of 100 J/kg and a few convergence zones may support an isolated spout risk. Heavy rain may become a local problem with a few flash flood events, especially over far NW Turkey (in the NE quadrant of the vortex). Isolated storms continue well into the night over Turkey but nothing severe is anticipated.

An isolated elevated storm may occur over the Bay of Biscay during the night, but coverage remains too low for any lightning area.