Storm Forecast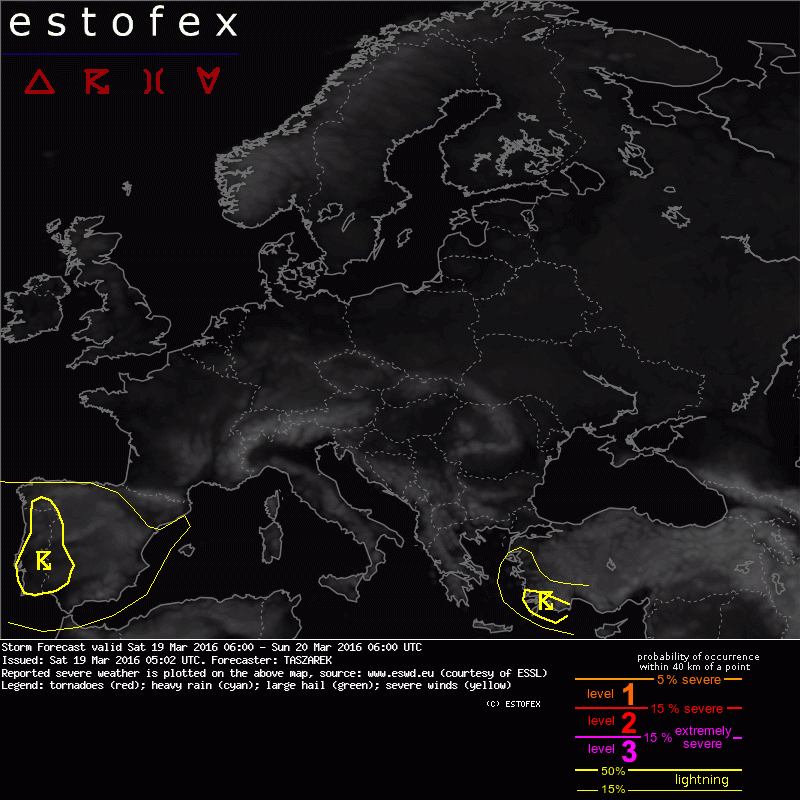 Storm Forecast
Valid: Sat 19 Mar 2016 06:00 to Sun 20 Mar 2016 06:00 UTC
Issued: Sat 19 Mar 2016 05:02
Forecaster: TASZAREK
No threat levels are issued.

SYNOPSIS and DISCUSSION

High over British Isles blocks westerly flow of Atlantic moist air mass. Thus, most of the Europe is covered with a cold and dry polar air where DMC is unlikely. A main jet stream with strongly amplified wave stretches from Greenland, through Scandinavia, up to Ukraine and Ural. The peak of the wave reaches Aegean Sea and Turkey where the steep lapse rates and Mediterraneans boundary layer moisture overlaps. This provides a slight risk for weakly sheared thunderstorm occurrence along W and SW Turkish coast.

Over the SW Europe, a cut-off travels southwardly and develops a thermodynamic instability over most of the W Iberian Peninsula. A steepening lapse rates up to 7.5 K/km along with low-level inflow of 7-8 g/kg mixing ratios results in a CAPE up to 400-800 J/kg. Most of instability area in the core of the trough lies under weakly sheared environment thus limiting the probability for the severe weather phenomena. A "jet" of the DLS on the southern and southeastern flank of the trough runs along SW Spanish coast. Although NWP models provide a weak CI within this area, a marginal and only local low-topped CAPE inhibits from issuing a level threat. Isolated thunderstorms may develop over marine areas along E Spanish coast during the evening hours. Although E Spain will be mostly under stable air mass during the forecast period a superimposment of stratiform and locally convective excessive precipitation cannot be ruled out.