Storm Forecast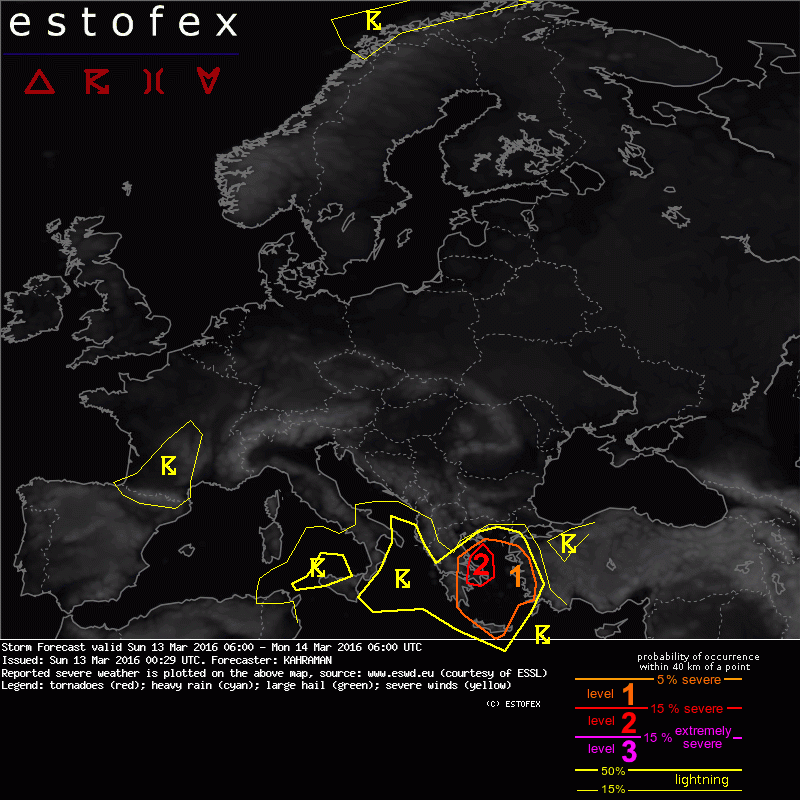 Storm Forecast
Valid: Sun 13 Mar 2016 06:00 to Mon 14 Mar 2016 06:00 UTC
Issued: Sun 13 Mar 2016 00:29
Forecaster: KAHRAMAN
A level 2 was issued for E Central Greece mainly for large hail and tornadoes.

A level 1 was issued for parts of Aegean Sea and surrounding coasts mainly for large hail, excessive precipitation, and to a lesser extent, tornadoes.

SYNOPSIS

Main patterns driving the weather of Europe are a high pressure over much of Northern and Central Europe, and a low over Central Mediterranean, both moving eastwards during the forecast period. Main DMC activity will be associated with the cooler polar air attached to a cut-off low above the moist air over the Mediterranean Sea around and in front of the mentioned low pressure area. An intensifying short wave in mid-troposphere moving from NE France towards N Spain, and another through approaching N Norway with Arctic air aloft are other features where DMC might develop.

DISCUSSION

... Aegean Sea and surroundings ...

Moist advection around the Aegean Sea (with up to 8-9 g/kg mixed layer mixing ratio) and 8-9 K/km mid level lapse rates yield ~1000 J/kg MLCAPE values towards E Central Greece and W Turkish coasts. With the passage of a strong jet, ~20 m/s 0-6 km shear already exist around the area. Large hail is likely along the W coastline of Turkey, parts of Aegean Sea and especially eastern half of Central Greece during daytime. A few supercells might produce tornadoes with veering low level wind profiles, resulting in more than 10 m/s low level shear. Backbuilding in the early hours, and slow moving storms in the night reveal local excessive precipitation risk.

... S Italian coasts ...

Due to low LCLs and marginally higher low level CAPE with low shear, a few waterspouts might occur around S Italian coasts. However, no level is warranted.