Storm Forecast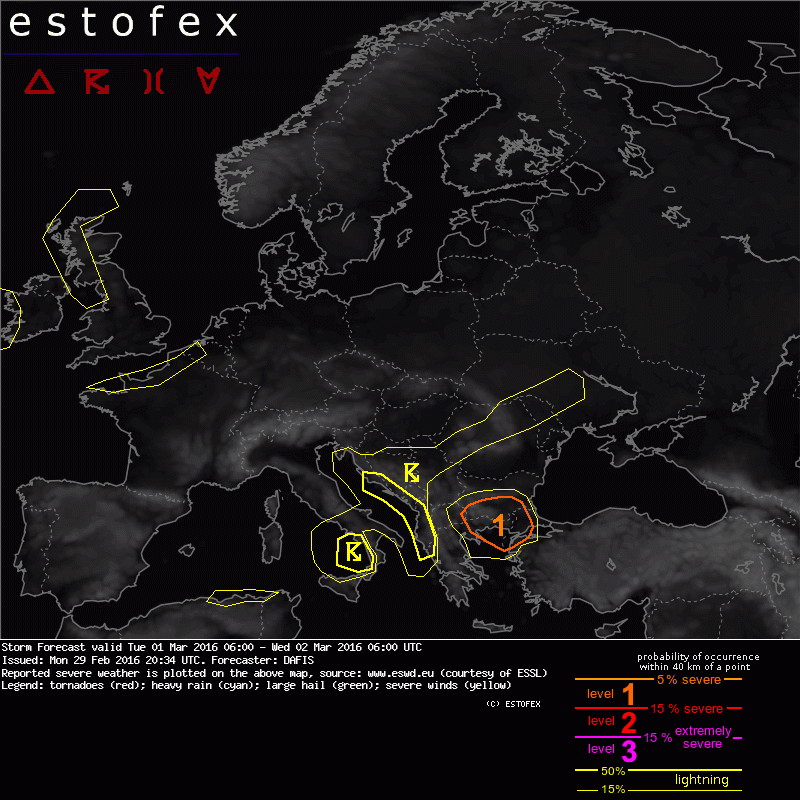 Storm Forecast
Valid: Tue 01 Mar 2016 06:00 to Wed 02 Mar 2016 06:00 UTC
Issued: Mon 29 Feb 2016 20:34
Forecaster: DAFIS
A level 1 was issued for N Greece, Bulgaria and NW Turkey mainly for severe wind gusts and large hail.

SYNOPSIS / DISCUSSION

The biggest part of the continent is under the influence of a broad long wave trough which is gradually weakening, while a short wave trough is approaching from NE Atlantic ocean. On the surface, three cyclonic vortices can be found over Italy, North Sea and NE Balkans. The low pressure system over Italy is rapidly weakening but, its cold front is moving over the Balkans and will feed some thunderstorm activity. The second one, over NE parts of North Sea, is deepening throughout this forecast period and will lead mostly in non-convective precipitation and wind gusts in the UK and Norway. The third one is stepping NE, towards Russia and its warm front results in non-convective rainfall over Belarus and Ukraine. Thunderstorm activity is expected mostly over Mediterranean basin, but also in UK, N France and Benelux after 00z on Wednesday but with low risk of any severe weather event. Even though lightning activity is expected to be more intense over S Italy and W Balkans, a level 1 was issued for NE Aegean Sea region.

.... N Greece, Bulgaria and NW Turkey ....

During Tuesday, a cold front passes over the Balkans where mid level lapse rates are more than 7 °C/km and the BL is quite moist with 9 - 11 g/kg of mixing ratio. Consequently, we expect the formation of some hundreds of CAPE, according the NWP model guidance, almost 600 J/kg of MLCAPE will be found over NE Aegean Sea and Bulgaria during the evening. This CAPE will be overlapped by strong DLS of more than 30 m/s and such set-up favors large hail occurrence. Moreover, the area will be under the influence of a jet streak in mid-levels and at 850 hPa with a vorticity maxima crossing during the evening hours. CI is expected to be marginal despite the abundant forcing and only at the convergence zones near the surface but every cluster of storm will be able to produce large hail and severe wind gusts.