Storm Forecast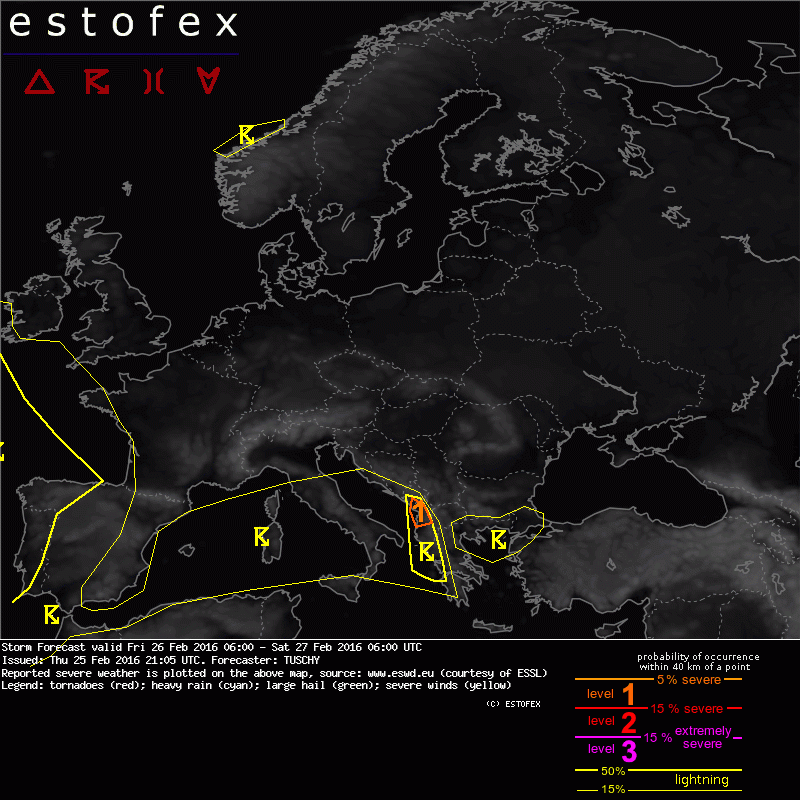 Storm Forecast
Valid: Fri 26 Feb 2016 06:00 to Sat 27 Feb 2016 06:00 UTC
Issued: Thu 25 Feb 2016 21:05
Forecaster: TUSCHY
A level 1 was issued for the extreme SE Adriatic Sea mainly for excessive rain.

SYNOPSIS and DISCUSSION

A broad longwave trough is placed over most parts of Europe. Along its western fringe, a compact and well defined trough amplifies south and affects the Iberian Peninsula during the forecast. First focus for thunderstorms will be the southbound moving cold front over Portugal before noon. Neither CAPE nor shear will be substantially enhanced, but approaching mid-level vort max should support enhanced lift for isolated thunderstorm development. Graupel and gusty winds accompany that activity. This front exits far S-Portugal around 15 UTC to the south.

Thereafter, active post-frontal convection occurs over offshore regions. A broad 50% lightning area will cover that activity.

During the night, a thunderstorm risk also evolves over the W-/CNTRL Mediterranean ahead of the approaching trough. Moisture recovery will be poor and combined with weak mid-level lapse rates, not much CAPE is forecast. Despite that marginal ingredient, shear increases constantly during the forecast from SW to NE. A few thunderstorms with graupel and gusty winds are forecast.
The only focus for somewhat better organized storms evolves from the N-African coast to Sardegna during the night. NE-ward spreading EML atop marginal BL moisture offers at least modest MLCAPE of ~ 500 J/kg. A few large hail reports could occur with the most enhanced risk over offshore regions.

Over the NE Ionian/SE Adriatic Sea, a cluster of showers/thunderstorms continues from the previous night with heavy (orographically forced also excessive) rain. A marginal level 1 covers that risk. This activity will be fostered by a NE-ward moving mid-level speed max. which continues to shift E/NE during the day (combined with the passage of a mid-level wave). Hence a gradual decline of that activity occurs until 18 UTC. A few thunderstorms are also possible over N-Greece and the N-Aegean Sea, but nothing severe is anticipated.

Short-lived thunderstorms may occur over Poland/Belarus during peak heating, but activity probably won't justify a lightning area.