Storm Forecast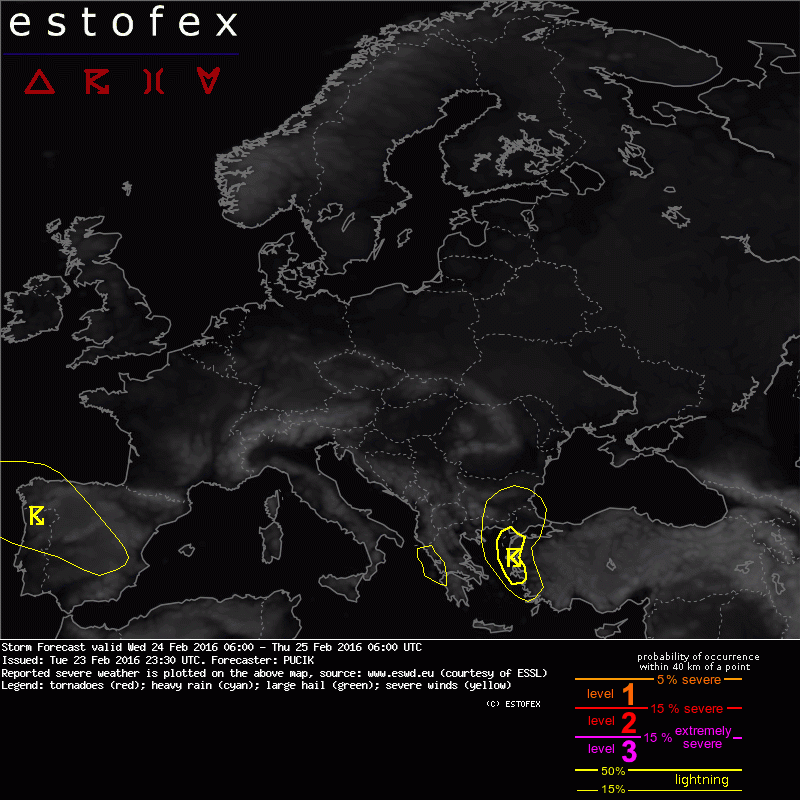 Storm Forecast
Valid: Wed 24 Feb 2016 06:00 to Thu 25 Feb 2016 06:00 UTC
Issued: Tue 23 Feb 2016 23:30
Forecaster: PUCIK
No threat levels have been issued.

SYNOPSIS

Macrosynoptic situation will be dominated by a large cyclonic vortex centered over northern Norway, its base extending towards the southern Mediterranean. Around this base, two short-wave troughs will translate eastwards during the day. The first one will cross Iberia during the day and the second one Balkans area and Turkey. Regarding DMC activity there will be three regions that deserve attention:

1. Norwegian through Northern Sea towards N Germany and Poland. Steep lapse rates due to the cold mid tropospheric temperatures will likely aid in the development of banded DMC. However, meager low level moisture will limit degree of instability and cell electrification. Thus, we refrain from issuing a 15% probability line, despite the fact that there is small chance of one or two lightning strikes with the more intense showers.

2. Western Iberia. Instability will be associated with the passage of the trough and a tongue of moister airmass. Lack of steep lapse rates will prevent higher CAPE values.

3. The Aegean Sea, parts of Greece, S Bulgaria. This region will feature the greatest destabilisation with locally more than 500 J/kg of MLCAPE as steep lapse rates favourably overlap with moist low level airmass. Stronger cells in the area may be capable of hail, which should stay sub-severe due to the poor overlap of CAPE with stronger DLS.