Storm Forecast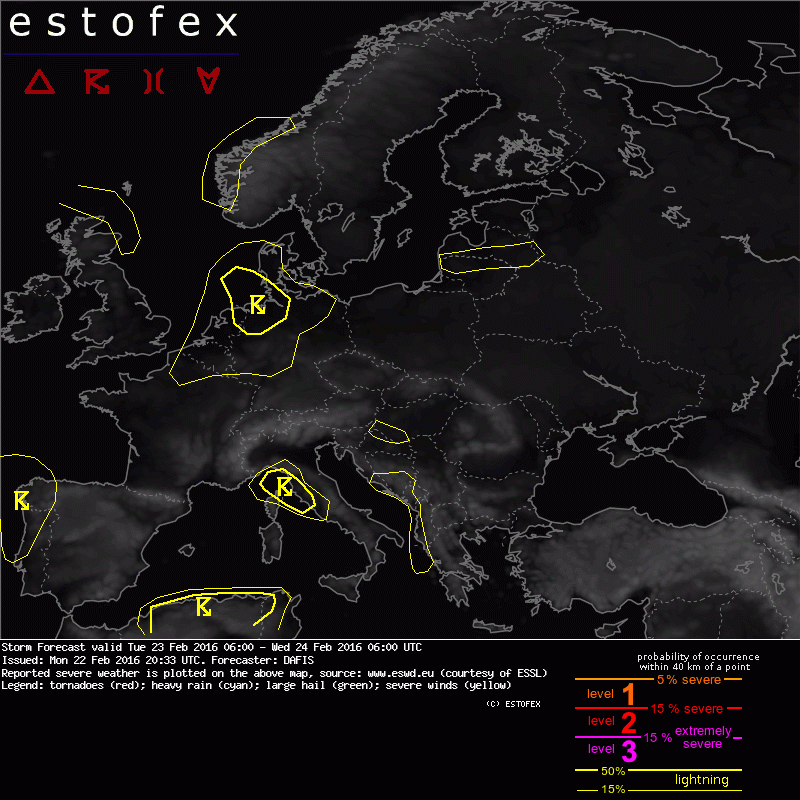 Storm Forecast
Valid: Tue 23 Feb 2016 06:00 to Wed 24 Feb 2016 06:00 UTC
Issued: Mon 22 Feb 2016 20:33
Forecaster: DAFIS
No threats were issued.

SYNOPSIS / DISCUSSION

A cold pool in W Mediterranean basin is weakening while another trough is crossing the northern and central parts of Europe during this outlook. Today E Mediterranean is under the influence of a ridge but after 00z on Wednesday, these parts will be under the left exit of a mid-level jet streak (500 hPa) as a longwave trough will pass over the area. A shortwave trough is also approaching from NE Atlantic ocean in the early morning of Wednesday. On the surface, a prolonged front is stalled over the central parts of the continent, from Russia to the Atlantic ocean. Furthermore, a cyclonic vortex over Scandinavia is also stationary, resulting in strong pressure gradient between Iceland and Norway. The aforementioned shortwave trough in NE Atlantic will be associated with a low pressure system on the surface with its cold front approaching Portugal and NW Spain in the morning of Wednesday.
Cold air masses above Mediterranean Sea will lead to quite steep mid-level lapse rates and the formation of CAPE. Although this CAPE will be not overlapped with DLS, the presence of LLS cannot exclude some waterspouts near the shores of Italy and W Balkans. The greatest probability of CI and lightning activity will be found over the northern parts of Germany, Algeria and NW Tunisia and lower probability in W coasts of Italy and NW Balkans. Synoptic lift due to a mid level jet streak and the advection of vorticity over the Ionian Sea will also assist CI after 00z on Wednesday. No threats were issued because even if storms will have cold cloud tops and satisfactory depth in the troposphere to form graupel, hence lightning activity, they will not be in any environment that could support severe weather.